BOE's 26% Gender Pay Gap Exacerbated by Lack of Senior Women
By
Governor Carney has said BOE has 'further to go' on diversity

Average pay for U.K. men was 9.4% higher than women in 2015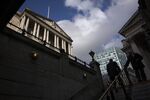 Women working at the Bank of England are paid 26 percent less than their male colleagues, reflecting a lower proportion in senior and high-salary positions.
While the difference has fallen from 28 percent last year, it's wider than the U.K. as a whole. Average hourly pay for men working full-time was 9.4 percent higher than for women, and 19.2 percent greater across all types of employees last year, according to Office for National Statistics data. A report published by the central bank on Tuesday showed women at the bank earned a median salary of 41,082 pounds ($54,343) in March, versus 55,828 pounds for men. 
While the BOE aims to have women in 35 percent of senior management roles by 2020, from 28 percent currently, Governor Mark Carney said last year there was further to go on diversity and said that the central bank had been a "laggard" compared to other parts of the private sector.
His push suffered a setback on Monday when the BOE announced the departure of its most senior female policy maker. Deputy Governor Minouche Shafik resigned less than halfway through her term to become director of the London School of Economics, worsening imbalances at the highest level.
"The main reason for the gap is the lower proportion of females in senior roles relative to males," the BOE said in a statement on its website. "The organization is comprised of 44 percent female employees and 60 percent of females are in the lowest two quartiles. The Bank still has much to do to ensure we have a sufficient pipeline of female staff in our senior management team."
Before it's here, it's on the Bloomberg Terminal.
LEARN MORE