Atlanta Fed President Lockhart to Step Down in February
by
Lockhart, 69, will leave after 10 years at bank's helm

Atlanta Fed to conduct national search for Lockhart successor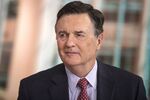 Federal Reserve Bank of Atlanta President Dennis Lockhart will step down on Feb. 28 after 10 years in the job, as required, creating a vacancy in the senior ranks of the U.S. central bank at a time when it 's under pressure to recruit more diverse leadership.
Atlanta Fed board chairman Thomas Fanning, who is chief executive officer of Southern Co., will lead a search committee of non-bank directors to find a replacement for Lockhart, the bank said in a statement Tuesday. It plans to conduct a national search for a diverse slate of candidates and has hired search firm Spencer Stuart.
Lockhart, who turns 70 in February, has been a centrist on the policy-setting Federal Open Market Committee, who has never dissented from the majority, and has supported Chair Janet Yellen's strategy to raise interest rates gradually. In a speech Monday, Lockhart said higher rates should be discussed at the FOMC meeting next week, while telling reporters there's not any urgency to move.
The Atlanta Fed's next turn in the yearly voting rotation among regional bank presidents is scheduled for 2018.
Live Webcast
The Atlanta Fed plans to host a live webcast on Oct. 6 to explain the search process and answer questions from the public, and it has set up a website for input.
The bank will face increased scrutiny in its selection process as critics of the central bank, including Center for Popular Democracy's Fed Up coalition, have called for a more diverse leadership that includes more minorities and women. Yellen, herself the first woman to lead the Fed, has been grilled by Congress on the selection of regional bank presidents and has expressed a commitment to diversity.
Speaking during a meeting with activists in Jackson Hole, Wyoming, on the sidelines of an annual monetary policy symposium in August, New York Fed chief William Dudley said that the Fed had done a "pretty lousy" job of delivering better diversity.
"It's really important that Federal Reserve officials in Washington, D.C. and Atlanta take this opportunity very seriously," Fed Up campaign director Ady Barkan said Tuesday.
Lockhart, a retired banker and former Georgetown University professor, has been a reliable supporter of Yellen and his views are often closely aligned with the center of the FOMC, making his comments influential for investors.
He joined the Fed in 2007, just as concerns were surfacing about the U.S. sub-prime housing market that escalated into the global financial crisis. The central bank slashed rates to near zero in 2008 and only lifted the target range for the benchmark policy rate in December to 0.25 percent to 0.5 percent. Lockhart told reporters Monday that "I don't feel that we are incurring costs of patience that put a lot of urgency on the question of raising rates."
Before it's here, it's on the Bloomberg Terminal.
LEARN MORE