Art
Why You Should Invest in Large-Scale Works by Artist Rashid Johnson
A retrospective at Hauser & Wirth embraces a more colorful work of art.
By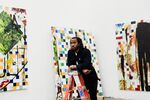 Most of Rashid Johnson's art—from room-size sculptures to semi-abstract paintings—addresses complex questions of race, history, and identity. For Fly Away, a sweeping exhibition at the New York gallery Hauser & Wirth, Johnson is trying something different. Something pretty. 
The 39-year-old artist, who soared to fame after the 2001 show Freestyle at the Studio Museum in Harlem, is premiering a series of 8-by-12-foot collages on ceramic tile, titled Escape Collage. To create the work, he first chooses a color palette for the tiles, which are fired in a kiln in Italy. Once they're delivered to his Brooklyn studio, Johnson arranges them in a grid. Then he prints images—many depict palms and other junglelike foliage—which he cuts up and collages onto the tiles.
"It's an aesthetic that I haven't employed before," he says.
On some, Johnson has poured the viscous black oil that he used in his series Anxious Men, which debuted at New York's Drawing Center in 2015. He also finds items such as sticks, rocks, and poles to scribble into the paint while it's still wet.
"I'm often gouging the work with the ends of broomsticks or scratching with stone I find," Johnson says. The works in the show range from $175,000 to $215,000, excluding one monumental sculpture.
"In the past, color has generally come from the objects that lived inside my work—if there was yellow, it came from shea butter. If it was green, it would come from the plants," he says. "This series is more about choice."



Before it's here, it's on the Bloomberg Terminal.
LEARN MORE