The End for Renzi? Goldman Sachs and Morgan Stanley Are Divided
By and
After Brexit shock comes a critical vote for Italy's leader

Italian bonds may not be pricing in the political risk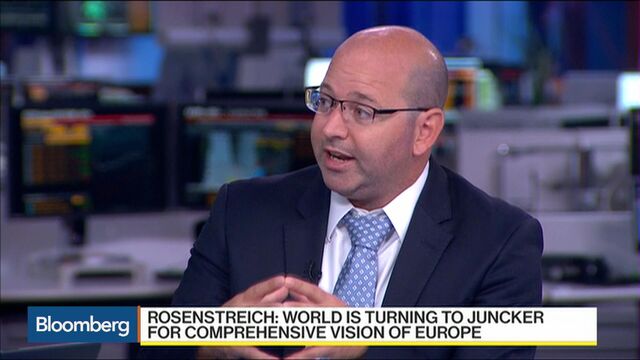 If everyone was caught out by the U.K.'s vote to leave the European Union, at least some people in financial markets are going to be right about the next referendum that threatens to upend a country's politics.
Italians will cast their ballots on constitutional changes that Prime Minister Matteo Renzi has gambled his job on. Banks are divided on the outcome. Analysts at Goldman Sachs Group Inc. reckon he has a 60 percent chance of winning, while at Morgan Stanley they put that likelihood at 35 percent.
On the face of it, the vote is on something relatively mundane, reducing the power of the Senate to strengthen parliament and foster more stable governments. But in echoes of the U.K.'s Brexit referendum that led to the abrupt departure of Prime Minister David Cameron, Renzi has promised to quit if he loses. It would leave Italy, which has had 63 administrations since the end of World War II, once again in a political impasse just as it needs to address its debt mountain and clean up its banking industry.
"The markets are too complacent about the referendum outcome and its impact," Morgan Stanley economists including Daniele Antonucci said in a report on Sept. 8. "Losing the referendum would further delay urgently needed economic and banking system reforms."

Italian bonds have risen since the Brexit vote along with other markets in the euro region because of support from the European Central Bank's asset-buying program, or quantitative easing. Yields on 10-year Italian securities fell 26 basis points to 1.30 percent. 
Yet compared with Spain, the picture is less positive. Spanish 10-year bonds yielded seven basis points more than their Italian counterparts the day after the Brexit vote. They now yield 23 basis points less.

The vote to is due likely in late November or early December. Renzi's plan is to reshape the Senate so that it can no longer block legislation indefinitely and loses its power to call a no-confidence motion in the government.
Morgan Stanley advises selling Italian bonds and European stocks to reduce political risk. Even though Goldman Sachs expects Renzi to prevail, Francesco Garzarelli, the bank's co-head of global macro and markets research in London, expects Italian bonds to take a hit.
"Even on our more optimistic central scenario, Italian sovereign credit may continue to underperform unless the polls turn," he said in a report last week. "With low chances of early elections and with the Bank of Italy heavily involved in the secondary market through the QE program, we do not see scope for a material widening in spreads that would warrant systemic ramifications."
A Sept. 4 poll published by newspaper La Stampa had the "No" vote at 51 percent and "Yes" at 49 percent.
For analysis on the Italian referendum, click here
For Vanguard Asset Management, which has more than $3 trillion in global assets, that could be a chance to buy. The company favors Italian over Spanish debt. U.K. government bonds soared after the Brexit vote on expectations the Bank of England would step in to shore up the market by resuming quantitative easing and cutting interest rates.
"I don't see the referendum leading to any systemic issue for Italy," said Nick Eisinger, London-based strategist at Vanguard. "Investors are getting used to dealing with the political uncertainty."
Sign up to receive the Brexit Bulletin, a daily briefing on the biggest news related to Britain's departure from the EU.
— With assistance by Vassilis Karamanis, Stephen Spratt, Chiara Albanese, and Giovanni Salzano
Before it's here, it's on the Bloomberg Terminal.
LEARN MORE