600% Return Shows Carlsberg Is Being Beaten in Its Own Backyard
by
ATP bet on Unibrew over Carlsberg has paid off in recent years

Danske sees Carlsberg adopting some of Unibrew's strategies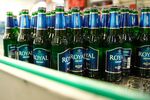 Carlsberg A/S is probably the best known Danish beer maker, but it's far from the top performer in its home market.
Over the past half decade, a mid-sized Danish brewer called Royal Unibrew A/S has delivered eight times the returns that investors in Carlsberg have received.
Pension fund ATP, which is one of the biggest investors in Danish shares, has doubled its holdings in Unibrew to 532 million kroner ($80.4 million) over the last three-and-a-half years. Over the same period, the fund halved its exposure to Carlsberg to 672 million kroner.
"We've seen a very strong development in Royal Unibrew over a long period of time after an impressive turnaround," Jacob Schmidt Johansen, director of Danish equities at ATP, said by phone. "It's a success story which has handsomely benefited shareholders, including us, and that's why we have chosen a relatively high exposure to Unibrew."
Carlsberg recognizes that "historically, we have not delivered. But as we have said many times, Carlsberg is determined to improve the flat earnings trajectory of recent years," a spokesman for the company said in an e-mailed response to questions.

Unibrew has focused only on geographical markets where it's already strong and has returned as much cash to shareholders as possible, in the form of dividends and buybacks. Danske Bank A/S and ATP both say it's been better than competitors in coming up with new products, including organic beer, as well as non-alcoholic beverages like energy drinks and soda.
The company's main markets are Denmark and Finland and its key beer brands are Ceres, Faxe and its Royal series. It's also the Danish distributor for Heineken N.V., Carlsberg's fiercest European rival.
"Unibrew is a small, very agile player, that's using innovative tactics with its product portfolio and still manages to keep costs in check," Tobias Cornelius Bjorklund, a senior analyst at Danske, said by phone.
Unibrew has already grabbed some market share from Carlsberg in Denmark in recent years, he estimates. It now has about a fifth of the Danish beer market, whereas Carlsberg still sits on roughly half.
Carlsberg's share performance has been beaten by Unibrew's every year since 2010. This year, Unibrew is up about 15 percent, while Carlsberg's share is roughly unchanged.
The average price target among analysts covering Unibrew's stock implies an upside of about 5.3 percent over the next 12 months, compared with a return potential of zero for Carlsberg, whose biggest market is Russia.
"For Carlsberg, Russia has overshadowed everything in recent years," ATP's Johansen said. "There have been heavy restrictions on beer sales which have hurt sales. On top of that, the ruble's weakening has been very bad for the Russian business."
For a story on Carlsberg's troubles in Russia, click here.
Over the past five years, Unibrew's shares have returned investors 615 percent, including re-invested dividends. Over the same period, Carlsberg returned 73 percent. The Bloomberg Europe Beverages Index gained more than 140 percent in the period.
Carlsberg last year hired Cees 't Hart as its first non-Danish chief executive officer, to turn around the fortunes for the 169-year-old year old brewer. This year, Carlsberg expects to realize about one quarter of the 1.5-2 billion kroner of savings that it's planning under its efficiency program. Half the amount will go toward improving the bottom line, while the other half will be reinvested.
According to Danske's Bjorklund, Hart's new strategy is "a bit like what Unibrew set out to do a few years back," with the focus centered on its strongest markets, on value over volume and cost cuts, all aimed at boosting shareholder returns.
For now, Carlsberg is still struggling to emerge from its existing troubles. Last month, it said it expects earnings growth will slow in Russia for the remainder of the year amid higher inflation.
"We haven't seen any visible results yet, but if Carlsberg succeeds in optimizing its business, it will look interesting," ATP's Johansen said. "For Royal Unibrew, the challenge now is if the company can successfully continue to stay innovative and to win market share."
Before it's here, it's on the Bloomberg Terminal.
LEARN MORE