What's Next for Cameron? Here's How Major, Blair and Brown Fared
Cameron stepped down less than a month before his 50th birthday. What can we glean about his plans from his predecessors?
By and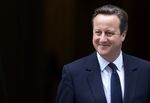 Former U.K. Prime Minister David Cameron says he is looking forward to "a life outside Westminster" after stepping down from his seat in Parliament, less than three months after losing the Brexit vote prompted him to quit his leadership role.
What will that life look like? And how will he be remembered by the British public?
Many believed that Cameron wanted to use his final term as prime minister to leave a legacy on social justice. In a speech at the Conservative Party conference last year, he promised to deliver an "all-out assault on poverty."
Cameron's statement said he wants to support local causes and charities as well as "continue to play a part in public service and to make a real and useful contribution to the country I love."
His predecessors have largely taken up work as advisers and envoys, running foundations and making money as consultants. Here's a look at how they've fared.

Gordon Brown
Prime Minister: 2007 to 2010
Best remembered for: Navigating the U.K. through the financial crisis and speaking out against Scottish independence. 
What he did next: After Labour's defeat to Cameron, he stayed in his seat until 2015, but he was somewhat forgotten on the global stage. Last year, he was hired by Pacific Investment Management Co., or Pimco, to sit on an advisory board with former Federal Reserve Chairman Ben Bernanke and others. He's also a UN special envoy for global education.

Tony Blair
Prime Minister: 1997 to 2007
Best remembered for: Support of President George W. Bush and the invasion of Iraq. Generally reviled, even—and especially—within his own Labour party.
What he did next: Worked as Special Envoy of the Quartet on the Middle East until 2015, and now runs a consulting firm and foundations.

John Major
Prime Minister: 1990 to 1997
Best remembered for:  Major struggled to recover from "Black Wednesday" of 1992, when the pound was forced out of an exchange-rate pact with other European currencies and interest rates shot up to 15 percent. Five years later, in the 1997 general election, Major's Conservative party suffered the largest general election defeat since 1832. 
What he did next: Major stayed in Parliament and served in the opposition, resigning in 2001. He was Carlyle Group's Europe chairman and remains a senior adviser for Credit Suisse. He's re-emerged as an elder statesman in British politics. 
Before it's here, it's on the Bloomberg Terminal.
LEARN MORE