What's Next for Cameron? Here's How Major, Blair and Brown Fared
Cameron stepped down less than a month before his 50th birthday. What can we glean about his plans from his predecessors?
By and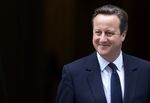 Former U.K. Prime Minister David Cameron says he is looking forward to "a life outside Westminster" after stepping down from his seat in Parliament, less than three months after losing the Brexit vote prompted him to quit his leadership role.