Vedanta Wins Cairn Nod for BHP-Style Resources Conglomerate
By and
Companies' agreement follows sweetening of deal in July

Vedanta shareholders gets cash while Cairn's add debt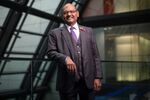 Vedanta Ltd.'s plan to create an Indian resources heavyweight to compete with the likes of BHP Billiton Ltd. got a boost Monday after shareholders in its oil unit, Cairn India Ltd., agreed to a proposal to combine the two companies.
Cairn India's shareholders "will benefit from exposure to Vedanta's diversified portfolio of assets while retaining the upside from Cairn's strong oil & gas assets," Cairn's acting chief executive officer, Sudhir Mathur, said in a statement, following the shareholders' vote. The transaction is expected to be effective by the end of the financial year in March.
Billionaire owner Anil Agarwal set out his idea to combine Vedanta, India's biggest base metals producer, based in Panaji, Goa, with its largest onshore oil producer in June 2015, but the plan faltered after the approval of key Cairn shareholders couldn't be secured. Vedanta, which holds 58 percent of its oil unit, sweetened the deal in July 2016. Cairn UK Holdings Ltd. and Life Insurance Corp. of India are among the largest minority shareholders of the Gurgaon-based Cairn.
Debt Pile
The deal will allow India's most-indebted metals company after Tata Steel Ltd. to access Cairn's cash pile, which stood at 234 billion rupees ($3.1 billion) at the end of June. Vedanta's debt at the time was 780 billion rupees while Cairn is debt-free.
"The deal is definitely good for Vedanta, not exactly for Cairn," Goutam Chakraborty, an analyst at Emkay Global Financial Services Ltd., said by phone from Mumbai, although he added that the combined entity will benefit from the diversification of its assets.
London-listed Vedanta Plc's ownership of Vedanta Ltd. is expected to fall to 50.1 percent once Cairn is absorbed, from 62.9 percent now. Cairn's minority shareholders will own 20.2 percent of the merged entity and and Vedanta minority shareholders 29.7 percent.
Merger Approved
Vedanta Ltd.'s Chief Executive Officer Tom Albanese said last year that the creation of an Indian resources conglomerate was intended to mirror Australia's BHP -- which holds mining and energy assets -- or Brazil's Vale SA. Albanese is a former CEO of another mining giant, Rio Tinto Group.
The merger plan was approved by 65 percent of the Cairn India shareholders -- representing 93 percent of its ownership -- who attended a meeting in Mumbai on Monday, according to the statement. In a postal ballot, 72 percent of shares voted for the deal. Vedanta shareholders and creditors had approved the proposal last week.
Cairn closed 5.1 percent lower in Mumbai on Monday, leaving it with a market value of 354 billion rupees. Vedanta lost 5.8 percent and is worth 478 billion rupees -- or about a tenth of BHP's market capitalization. India's financial markets are shut for a holiday on Tuesday.
Before it's here, it's on the Bloomberg Terminal.
LEARN MORE