U.S. Should Embrace Chinese Investment Surge, Henry Paulson Says
By
America competes for Chinese capital: Ex-Treasury secretary

U.S. should ignore shifting political winds, Paulson says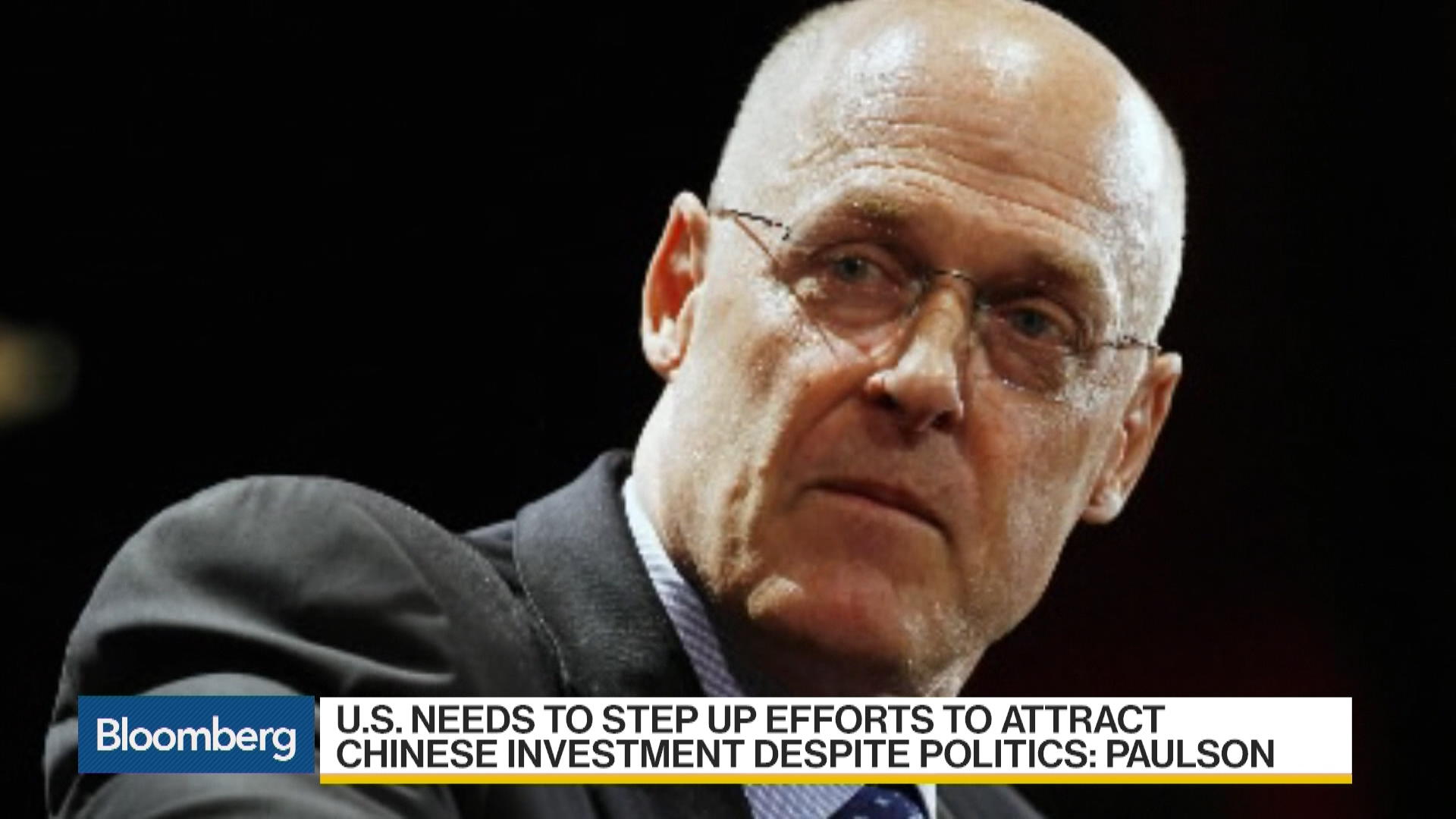 The U.S. should step up efforts to attract Chinese investment despite political resistance to trade with China and foreign takeovers, said former Treasury Secretary Henry Paulson.
Direct investments by Chinese firms in the U.S. -- including takeovers of American companies and the opening of new facilities -- are poised to grow significantly over the next five to 10 years, Paulson said in a report released Monday, entitled "Demystifying Chinese Investment in the United States." The influx from China may eventually eclipse Japanese investment in the U.S., he said.
"You're going to continue to see more outbound investment from China to the West, but I don't think we're going to get our fair share in the U.S. if we're not welcoming," Paulson said by phone.
Chinese companies have invested about $76 billion in acquiring U.S. firms this year, more than double the previous record, according to data compiled by Bloomberg. That compares with a total of $2.1 billion a decade ago.
China has been a frequent target of scorn in the U.S. presidential campaign. Republican nominee Donald Trump has been an especially vocal critic, vowing to declare China a currency manipulator and take a tougher stance when the country violates trade rules.
Tech Advances
"I'm deeply concerned about this wave of protectionism that's sweeping the United States, because foreign trade and cross-border investment are key factors in economic growth," Paulson said. Trade has both pros and cons, which include workforce reductions in specific industries, he said. "But many job losses aren't the result of trade. They're actually driven by advances in technology that benefit society at large, but are destroying more jobs than they are creating and hollowing out the middle class," he said.
Paulson said a range of factors is driving Chinese interest in U.S. acquisitions -- from a desire for acquiring new technology to finding a home for its still-plentiful foreign-exchange reserves.
He acknowledged that the American public remains suspicious of foreign takeovers.
"The idea of any foreigners buying U.S. assets has never been popular. Although the highest compliment anyone could pay the United States is to make a direct investment, which is a vote of confidence in our economy," said Paulson, who advocated closer economic ties with China while serving as Treasury secretary between 2006 and 2009 under George W. Bush.
More Energy
The reality is that Chinese investment could create jobs in the U.S., while providing a way to "inject new energy into the increasingly complex U.S.-China economic relationship."
He recommended both countries avoid putting entire sectors off-limits from foreign investment, and apply national-security reviews in a fair and transparent manner. He called for the U.S. and China to complete negotiations on an investment treaty that would lift barriers to foreign capital.
Keeping in mind that all foreign takeovers "have a political dimension," companies should try to secure the support of all stakeholders involved in the acquired asset, including local communities, Paulson said.
"The thing we really need to be careful about is engaging in a tit-for-tat wave of protectionism which could spiral out of control," Paulson said by phone.
The current Treasury secretary, Jacob J. Lew, said Monday that the U.S. won't tolerate China keeping its markets closed to U.S. products.
"There has to be a level playing field," Lew said at a question-and-answer session at the Council on Foreign Relations in New York. The U.S. is seeking a "high-quality" investment treaty with China, he said.