U.S. ELECTION WRAP: Clinton Surprise Tees Up Health Showdown
With the first presidential debate two weeks away, the stage is set for a Clinton-Trump face-off over their respective health records.
By and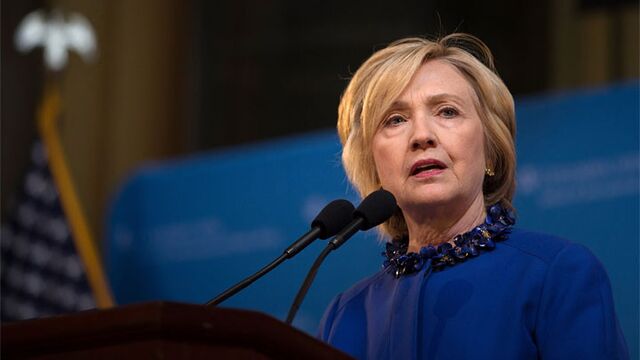 Hillary Clinton's pneumonia diagnosis and unexpected break from the campaign trail sets the stage for a medical face-off with Donald Trump, injecting fresh unpredictability into the presidential race.
As the Democratic nominee's campaign vowed to release additional medical information within the next couple days, Clinton spokesman Brian Fallon told CNN it will be "interesting" to see what Republican rival Donald Trump discloses
Trump, unlike Clinton, has yet to meet the established standard in sharing health details with the public, Fallon contended; he also said the former secretary of state isn't contagious and campaign aides stressed that there are no further undisclosed medical conditions
Trump told Fox News he intends to release "very, very specific numbers" from a physical exam he underwent in the past week; he also is set to appear in a pre-taped TV interview on Thursday with Mehmet C. Oz, also known as Dr. Oz, to discuss his "personal health regimen," Bloomberg's Margaret Talev and Jennifer Epstein reported
In the meantime, questions over Clinton's health status and criticism over how the matter was handled showed no signs of letting up this afternoon
Fallon on MSNBC declined to say what kind of pneumonia Clinton contracted; he also said Clinton yesterday was "alert the whole time" in the van that took her to daughter Chelsea's Manhattan apartment; read full account here
While the Trump camp so far has conspicuously declined to attack Clinton over yesterday's health revelation, David Axelrod, a top strategist for both of President Obama's campaigns, had some stinging criticism of the former first lady

"Antibiotics can take care of pneumonia. What's the cure for an unhealthy penchant for privacy that repeatedly creates unnecessary problems?" Axelrod wrote in a Twitter post
A couple hours later, Axelrod also went after Trump
"Transparency works BOTH ways, @KellyannePolls!," he wrote in Tweet directed at the GOP candidate's campaign manager Kellyanne Conway. "Where r @realDonaldTrump tax returns? Health records? Secret plans?"

SOFT-TOUCH TRUMP?
While some election watchers were braced for a barrage of "I told you so" type comments from Trump today about Clinton's health, the real estate mogul so far has struck a relatively subdued chord

"I hope she gets well soon. I don't know what's going on," Trump told Fox News. "We have to see what's wrong"
Trump said he expected to see Clinton at the first presidential debate on Sept. 26 and that he didn't think Democrats would replace her as their nominee

The Trump campaign's decision to tread "softly" reflects both "more discipline and an acknowledgment that they don't have to be in this story," Jennifer Duffy, senior editor at nonpartisan Cook Political Report, told Bloomberg. "It's not about them"
While Trump didn't mention Clinton's health status during a midday speech in Baltimore, he didn't hold back in attacking his Democratic rival over calling half his supporters a "basket of deplorables"; see story by Bloomberg's Jennifer Jacobs here
Trump said Clinton's "vile words" about his backers amount to an "explicit attack" on the politically powerless; the former secretary of state has said she regrets the remark

The Trump campaign is out with a new ad today that seeks to capitalize on Clinton's comment, accusing her of "viciously demonizing hard-working people"
The campaign will spend about $2 million, at least to start, on the ad; it will air in key battleground states of Pa., Ohio, N.C. and Fla., with other states possibly added later, according to Trump aide

A Wall Street Journal editorial said Clinton's "deplorables" remark shows why she might lose the race
Clinton spokesman Fallon told CNN that it's clear there is a "strand" of Trump's followers who are inclined to engage in "hate-filled" rhetoric

He also stressed that Clinton said most of Trump's supporters are frustrated by the economy and want change

CLINTON FALLOUT?
It will probably take "about a week" to know the full impact of Clinton's health issue and "deplorables" comment, Duffy said

"That said, the Clinton campaign hasn't handled any part of this well," she said. "If they withheld the pneumonia diagnosis to avoid scrutiny of Clinton's health or to avoid feeding the conspiracy theorists, it backfired magnificently"

ON/OFF THE TRAIL
Clinton is speaking at a San Francisco fundraiser via video conference today after canceling a planned personal appearance, CNN's Jeff Zeleny said
Her planned speech in Los Angeles on the economy tomorrow has been canceled and an address scheduled in Las Vegas on Wednesday may now take place in the U.S. Northeast, according to Zeleny
Trump speaks at a rally tonight in Asheville, N.C., and is set to stump in both Iowa and Pennsylvania tomorrow

ENDORSEMENTS
James Woolsey, who headed the CIA under President Bill Clinton, has agreed to advise Trump

When asked on CNN if this means he's endorsing Trump, Woolsey said: "Well, sure," adding that he's not accustomed to giving endorsements
Woolsey said even though he's been a Democrat all his adult life, he was "pleased" to be asked to help advise Trump
Trump appears to be more in favor of a "strong" defense budget than Clinton and also seems to be "willing to keep a secret and not blab" about things that should be "kept quiet"
When asked what he thought of Trump's comment last week about the "body language" of officials giving him classified briefings, Woolsey said he's never heard of body language as being top secret
On Trump's praise for Russian President Vladimir Putin, Woolsey noted that FDR and Joseph Stalin were close allies from 1941-45 and said kind things about one another
The niceties don't matter, but rather what leaders "do" and if they have a strong national security establishment: Woolsey

The Winston-Salem Journal newspaper of N.C. endorsed Libertarian Gary Johnson for Senate

"We've surprised even ourselves with this endorsement, our first for a Libertarian for president. But the timing has never been better for this particular Libertarian, Gary Johnson of New Mexico. He is everything the presidential candidates for the two major parties are not, thank God"

POLLS/PREDICTIONS
Democratic pollster Peter Hart rates Clinton as a 7-1 favorite to win the presidency and sees a narrow path for Trump, opened for him by the other candidates on the ballot, CNN reported, citing Hart's comments on "The Axe Files," a podcast hosted by former Obama aide Axelrod and produced by CNN and University of Chicago Institute of Politics

If support for Johnson and Green Party candidate Jill Stein stays at the 15% level, Trump has enough room to beat Clinton, according to Hart
To secure a victory, Clinton needs to be more revealing in the upcoming debates about what, beyond personal ambition, drives her to seek the presidency, he says

ETC
Sen. Chuck Schumer of N.Y. decided to share his own medical news today by disclosing that he had pneumonia several weeks ago
The top super-PAC backing Clinton will begin to dramatically accelerate its advertising spending this week, Bloomberg's John McCormick reported
Early voting has begun as the presidential race keeps tightening; read full story by Bloomberg's Terrence Dopp here
Trump's effusive praise of Russia's Putin is drawing both anger and praise from Pennsylvania voters, Bloomberg's Jef Feeley wrote
Trump's $625-a-night Washington hotel will have a soft opening today, followed by a formal one late next month; read full story here

CONGRESSIONAL ELECTIONS
SENATE RACES (Republicans hold 54-46 majority)
FL: Republican Sen. Marco Rubio's campaign released Spanish-language TV ad of woman praising Rubio for helping expedite FDA approval of medication for daughter suffering from breast cancer

Rubio and the National Republican Senatorial Cmte released English-language version of ad last month
NOTE: Rubio seeking second term against Democratic Rep. Patrick Murphy

IL: Independent Voice for Illinois PAC, a super-PAC supporting GOP Sen. Mark Kirk's re-election, released TV ad attacking Democratic Rep. Tammy Duckworth for supporting Iran nuclear deal and being open to U.S. accepting Syrian refugees

Narrator says Kirk has shown "strong leadership on national security," notes he "opposed the Iranian deal and ''says no to more unvetted Syrians"
Ad first aired this AM in Champaign market, according to Kantar Media/CMAG

IN: Republican Rep. Todd Young's campaign released TV ad linking Democratic ex-Sen. Evan Bayh to "Washington insiders and Wall Street bankers," saying he "left us" to work as a "big-money influence peddler in D.C."
NH: Security is Strength PAC, Republican super-PAC that backed Sen. Lindsey Graham's presidential campaign, released TV ad praising Republican Sen. Kelly Ayotte for having "championed legislation to keep Gitmo open and terrorists behind bars," in reference to U.S. detention base in Guantanamo Bay, Cuba

Ayotte campaigned Sept. 9 with Iowa GOP Sen. Joni Ernst, who "repeatedly hammered" Democratic Gov. Maggie Hassan for backing the Obama administration's Iran nuclear deal, Manchester Union Leader reported

"They did not mention Republican presidential nominee Donald Trump during speeches and Q&As" at events in Windham and Amherst, according to the paper

Ayotte favored to defeat former state Sen. Jim Rubens in primary tomorrow; Hassan unopposed in Democratic primary

PA: Democrat Katie McGinty campaigned with Massachusetts Democratic Sen. Elizabeth Warren Sept. 9 in Philadelphia, per Philadelphia Inquirer

Trump and Republican Sen. Pat Toomey "share the same ugly agenda," Warren said
McGinty, following revelations that Wells Fargo opened accounts without approval of customers, attacked Toomey on conference call for opposing Consumer Financial Protection Bureau, according to campaign release
Senate Majority PAC, a Democratic super-PAC, released TV ad saying Toomey is "for Wall Street, not us"

WI: Democrat Russ Feingold's campaign in TV ad criticized Republican Sen. Ron Johnson for calling Social Security program a "legal Ponzi scheme" and supporting changes to Medicare that would turn it into a "voucher program" that would hurt seniors

Johnson backed a budget proposal by House Speaker Paul Ryan that would create Medicare premium-support subsidy system under which seniors could purchase private insurance
HOUSE RACES (Republicans hold 246-186 majority)
AZ-02: Democrat Matt Heinz's campaign released TV ad of a female doctor criticizing Republican Rep. Martha McSally for having "voted with the Tea Party six times to shut down Planned Parenthood"

McSally in Feb. joined all but 3 Republicans in voting to override Obama's veto of measure that would have repealed key provisions of 2010 health-care law and bar federal money to Planned Parenthood
Heinz, a doctor and former state representative, opposing freshman McSally in competitive Tucson-area district where she won by fewer than 200 votes in 2014

NY-23: Democrat John Plumb released TV ad attacking Republican Rep. Tom Reed's record as Corning mayor and saying he voted in 2014 for a "huge tax break for corporations, while voting to raise middle-class taxes to pay for it"

Ad references Reed's vote in April 2014 for budget resolution in Republican-led House, a nonbinding blueprint to cut $5 trillion in government spending over a decade

NY-24: Republican Rep. John Katko's campaign aired TV ad yday of a American flag flapping in wind as chyron says "NEVER FORGET" and "9-11-01" in reference to terrorist attacks 15 years ago; no one speaks in ad except for Katko in stand-by-your-ad disclaimer required by law

Katko opposed by Democrat Colleen Deacon in district in and around Syracuse

PA-08: Defending Main Street SuperPAC reported spending $98k to produce and air TV ad opposed to Democratic state Rep. Steve Santarsiero, according to FEC filing

The super-PAC, which is funded by labor unions and tends to back more centrist Republicans, is aiding ex-FBI special agent Brian Fitzpatrick for competitive suburban Philadelphia district held by his brother, retiring Republican Mike Fitzpatrick

TX-23: Democrat Pete Gallego said in TV ad he "helped as many veterans as I could" in Congress "because honoring their service must be more than just saying thank you"

Gallego, who served in House from 2013-15, seeking rematch with Republican Rep. Will Hurd in competitive district stretching from San Antonio to El Paso

WI-08: Republican Mike Gallagher released TV ad that refers to Democrat Tom Nelson as a "career politician" who "backed higher taxes on Social Security"

Ad refers to Nelson's 2005 vote as state legislator against budget proposal from Assembly's Republican majority that in part would "phase out the state's tax on Social Security benefits," according to Associated Press
Gallagher, a Marine and former campaign aide to Gov. Scott Walker, and Nelson, now a county executive, seeking northeastern district of retiring Republican Reid Ribble
Before it's here, it's on the Bloomberg Terminal.
LEARN MORE