U.K.'s May Is Right to Take Time on Hinkley Point, Royal Says
By , , and
New British government has avoided committing to nuclear plant

Royal sees French voters wanting to stay in European Union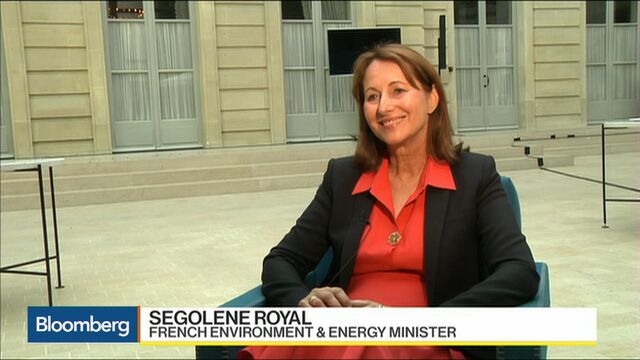 French Energy Minister Segolene Royal said she understands that U.K. Prime Minister Theresa May needs to take her time to decide whether the new Hinkley Point nuclear power plant should go ahead as talks between the two countries on the project continue.
"She has the right to take her time to define what is best for her country," Royal said in an interview with Bloomberg Television in Paris. "What we need is a good decision."
Since becoming prime minister in July, May has avoided committing her government to the 18-billion pound ($24 billion) plan to build Britain's first nuclear power plant in more than two decades. The French government, which controls Electricite de France, backs the project because it means exporting of French technology.
"Of course we continue to discuss" the matter with Britain, Royal said, declining to predict when talks should be completed.
Royal said the French population is unlikely to follow their British neighbors in supporting a French exit from the European Union.
"You can't imagine that, it's not my hypothesis," Royal said. Polls show "the French people will rally" to the support of Europe, she said.