Trump Rails Against Clinton's 'Deplorables' Remark in Baltimore
The Republican presidential nominee senses an opportunity to reset the race in his favor.
By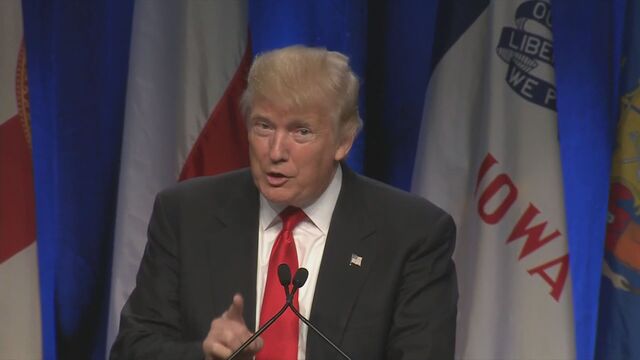 Sensing an opportunity to reset the race in his favor, Donald Trump delivered a speech railing against Hillary Clinton's labeling of many of his supporters as a "basket of deplorables."
"If Hillary Clinton will not retract her comments in full, I don't see how she can credibly campaign any further," the Republican presidential nominee said at the National Guard Association's annual conference at the Baltimore Convention Center, his first address since Clinton's remarks Friday night. 
Echoing a line from an advertisement his campaign plans to broadcast in several battleground states this week, he also argued that the Democratic nominee had "viciously demonized" his supporters, who come from "every part of America, and every walk of life."
"Let's be clear these were not off-hand comments from Hillary Clinton," he said, as the audience of Guard officers listened quietly. "These were lengthy, planned and prepared remarks."
War of Words
Clinton on Friday said she puts "half of Trump's supporters into what I call the basket of deplorables" who are "racist, sexist, homophobic, xenophobic, Islamaphobic—you name it." The other half "just don't feel like the economy or our political system are working for them."
The next afternoon, she walked back the percentage she thinks are bigoted or sexist. "I regret saying 'half,'" she said. "That was wrong." But she refused to stop "calling out bigotry and racist rhetoric" in Trump's campaign.
Trump is making "deplorables" the centerpiece of his attacks on Clinton this week, a gambit that could help him gain on Clinton after a week of tightening polls. 
"Hillary Clinton has revealed her true thoughts," he said, adding she "spoke with hatred and derision for the people who make this country run."
It wasn't until he changed the subject and talked about working "in unity" that the audience gave him hearty applause.
"We will be one people, under one God, saluting one American flag," Trump said to a standing ovation.
Clinton's Health
In his National Guard speech, Trump didn't reference Clinton's decision to take a day off the campaign trail Monday as she recovers at home from pneumonia.
Republicans have stoked rumors about whether Clinton is healthy enough to serve as the nation's leader, but Trump in early-morning TV interviews tried to rise above the politics of her near-collapse Sunday, even as he offered subtle digs.
"I hope she gets well soon. I don't know what's going on," Trump said on Fox News. He said on CNBC that he takes "no satisfaction" from her spell of ill health, then claimed his schedule is more grueling than Clinton's. Trump's strategists Monday morning asked their team to simply wish Clinton a speedy recovery when reporters ask them questions about Clinton's health.
As they both fight for national security voters, Clinton and Trump have been leap-frogging each other to military and veterans' association annual meetings this summer. They spoke on different days at the AmVets and Legion conferences. Clinton wasn't scheduled to speak to the Guard group.
The National Guard Association is made up of about 45,000 current or former Guard officers; their goal is to work for better equipment and training by petitioning Congress for more resources.
Before it's here, it's on the Bloomberg Terminal.
LEARN MORE