Transit Startup Proterra Plans Electric Bus With 350-Mile Range
By
Public transit agencies large and small replacing diesel buses

Transportation eclipsing power generation as emissions source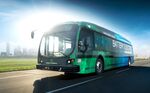 Proterra, a Silicon Valley startup that makes a fully electric city bus, is set to announce a new product line that includes a high-end model capable of traveling roughly 350 miles per charge.
The Catalyst E2 series, to be unveiled Monday during the annual meeting of the American Public Transit Association, would give transit agencies a high-performance electric bus that can service long routes. The APTA expects the transit industry will need to buy 50,000 buses over the next six years.
Transportation -- and the future of mobility -- is a hot sector in Silicon Valley, with fast-growing companies such as Tesla Motors Inc. and Uber Technologies Inc. getting enormous attention for their electric cars, ride-sharing and forays into autonomous driving.
But public buses are a key part of the nation's overtaxed transit infrastructure, particularly for passengers who can't afford to hail a car from their smartphone, much less buy an automobile. And as the nation's coal-fired power plants close, transportation is likely to eclipse electricity production as the nation's largest source of greenhouse gas emissions. That's already true in states such as California, where transportation accounts for 37 percent of the state's emissions.
'Hot Spot'
"If you look at which sector is most vulnerable to electrification, a hot spot is transit buses," Ryan Popple, Proterra's chief executive officer, said in an interview. "Saving money on fuel means that transit agencies can provide more route service."
Proterra is based in Burlingame, California, where a team of engineers designs the battery system. The buses themselves are manufactured at a facility in South Carolina.
The company's first customer was Foothill Transit, which serves the San Gabriel Valley in Southern California and has committed to having a fully electric bus fleet by 2030. Since then, orders for buses have come in from larger agencies, including King County Metro in Seattle and Dallas Area Rapid Transit.
"The most broken part of city infrastructure is how we move goods and people," Popple said.