There's a Simple Reason JPMorgan Is Warning Investors to Take Care With U.S. Treasuries
It's all about that yield pickup.
By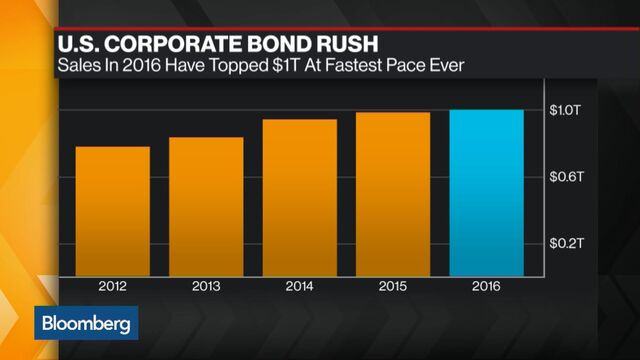 When Japanese, European, and U.K. government bonds sneeze, U.S. Treasuries catch a cold?
Investors have been eschewing some longer-dated government debt as they fret over the willingness — and ability — of central banks to continue to fan economic growth through unconventional monetary policy such as bond purchase programs.
The skepticism helped send yields on Japanese government bonds and German bunds spiking last week, and on Friday the sell-off reached the U.S. Treasury market, where the benchmark 10-year note posted its worst two-day performance since July as yields jumped 14 basis points.
The rout has sparked a flurry of analyst commentary as the higher U.S. yields haven't been accompanied by changing expectations of Federal Reserve policy. Instead, analysts at  JPMorgan Chase & Co. suggest the sell-off in U.S. government debt is taking place as higher yields in Japan and Europe make Treasury bonds less attractive by comparison.
"From a medium-term perspective, we are beginning to think the risks around rate levels have begun to shift, for a number of reasons," JPMorgan analysts led by Jay Barry wrote in a note published late on Friday. "First, developed market central banks have disappointed again, highlighted by [last] week's lack of action from the European Central Bank. Second, as a corollary, Treasuries no longer appear as attractive to foreign investors compared to home currency bonds as they did earlier this year."

The so-called yield pickup that foreign investors can expect to earn by selling government bonds in their local currencies to buy 10-year U.S. Treasuries has fallen dramatically thanks to the recent increase in yields and stubbornly negative cross-currency basis swaps that help traders hedge such deals.
For instance, writes JPMorgan, Japanese and European investors could as recently as March have expected to pick-up 80 bps and 50 bps, respectively, by selling their home bonds to buy U.S. Treasuries with a short-term currency hedge.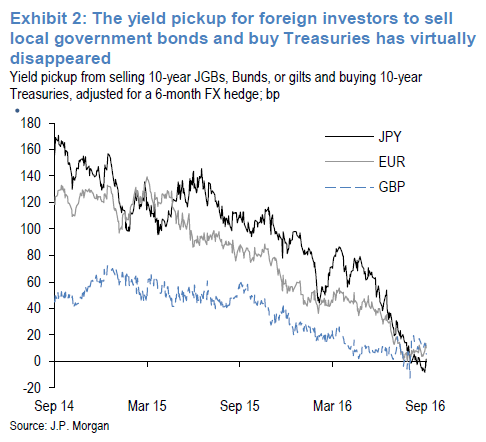 "But this yield pickup has largely disappeared, as JGB and bund yields have risen, while cross-currency bases have remained quite negative," the analysts note. "This yield pickup was one large support for the Treasury rally in the first half of 2016, as the Bank of Japan and ECB eased aggressively, while the Fed remained on hold. Going forward, this should be less supportive of foreign demand than it was in [the first half], and recent data already suggest Japanese investment in foreign bonds had started to slow in August."

Combined with some crowded positioning — JPMorgan's client survey shows 16 percent net longs, the highest level since June 27, or immediately after the Brexit vote — and a deluge of new supply expected this week when the U.S. Treasury is due to auction $44 billion worth of three- and 10-year notes in an unprecedented Monday sale. 

All in all, suggests JPMorgan, the tailwinds for U.S. Treasuries appear to be turning more feeble — if not downright sickly.