pursuits
September 2016 Table of Contents: Fall Style Issue
By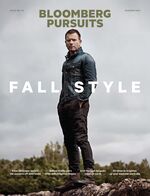 Is this the end for the banker's suit?
We live in an increasingly dressed-down world, with Silicon Valley's laid-back style spreading to the finance hubs of New York, London, and Hong Kong. In June, J.P. Morgan began allowing employees to wear business-casual attire (with the caveat that "if you're seeing a client, you should dress for that client"). And while I'm relatively certain that 270 Park Avenue hasn't suddenly transformed into a backyard barbecue, there's something notable about the largest U.S. bank giving the okay to a polo instead of a pinstripe.
With this in mind, we present our fall fashion issue, which brings the best of a range of formality, from a shearling bomber jacket to polka dot ties to, yes, a double-breasted, custom Italian suit.
Your clothing should, of course, reflect your personality. Our cover star, Ewan McGregor, has a passion for motorcycles, so we've dressed him accordingly—a sleek leather jacket by Tom Ford, lace-up boots by Tod's, Illesteva sunglasses that have a whiff of James Bond. At 45, McGregor is entering a new phase of his career; his directorial debut, American Pastoral, premieres in October. Yet when it comes to riding, the star's enthusiasm remains youthful. "I've never gotten over that I'm allowed to do it," he told our car columnist, Hannah Elliott.
A leather jacket has a time and place. So does a made-to-order masterpiece. To that end, we sent writer David Coggins to Italy for a bespoke adventure. He visited the legendary Naples atelier Rubinacci, which creates luxurious custom suits in just a week. The house style is a more relaxed fit with softer shoulders, and the process takes three fittings and 54 man-hours. The craftsmanship of the final product shows the effort, and you'll look better for it. So while you may be able to wear a polo to work, should you? As Tom Ford says, "Dressing well is a form of good manners."
Seek
The Five Best Restaurants in Mexico City
Enrique Olvera, king of inventive Mexican cuisine, picks the most delicious new spots in town
Caribbean Storm Recipe: An Amped-Up Dark 'n' Stormy Cocktail
Rum, ginger, and a special twist make the Caribbean Storm a most refreshing fall cocktail
For $16,000, You Can Hunt With Eagles in the Wilds of Mongolia
A once-in-a-lifetime experience thousands of years in the making
The New Way to Spend a Three-Day Weekend in Napa
America's most famous wine region feels new again, thanks to pioneering hoteliers, distillers, and chefs.
Tour Chicago's Hotspots with Actress Sophia Bush
From cocktails to camera shops to the coolest neighborhood walks.

Super-Size Your Stereo With $300,000 Speakers
The 7-foot-tall, hand-built Imperia speakers from Oswalds Mill Audio prove that bigger is sometimes better.
Conquer the Hills of Italy in a Maserati Levante
The twisting roads surrounding the country's largest lake are no match for the new SUV.
Plaid Patterns Are Everywhere This Fall. Here's How to Wear Them
From the runway to your closet, checks are getting around.
How to Wear Fall's Favorite Trend: Suede
The rules of suede wear are simple and finite.
Pearls Are the Top Trend in Jewelry this Fall: How to Wear Them Now
The iridescent gem takes a prominent places on purses, rings, shoes, and sweaters.
Athleisure Won't Go Away. Here's How to Cope
Elevated athletic wear continues its reign, from high-end sneakers and smart watches to varsity-inspired jackets and sweaters.
The Only Chair You Need for Your Office
An icon of Dutch design gets a sleek, comfortable do-over.
Home Design Tips From a French Fashion Designer
The art-filled hideaway where Christina Zeller, the force behind Belgian leather goods maker Delvaux, retreats on weekends.
Fall's New Must-Have Accessory Is a Personalized Lowball Tumbler
A look at how J. & L. Lobmeyr makes its one-of-a-kind, personalized tumblers.
Why You Should Invest in Large-Scale Works by Artist Rashid Johnson
A retrospective at Hauser & Wirth embraces a more colorful work of art.
Spend
The 10 Style Upgrades You Need This Fall
A purple velvet dinner jacket, a Rolex with a verdant green dial, a wallet made of fluorescent orange leather—this season, brightness rules.
Pursue
Ewan McGregor Rides Again
Twenty years after Trainspotting, the actor opens up about directing for the first time, his passion for motorcycles, and making it to 45 in one piece.
Get Suited by the Best Bespoke Tailor on Earth
Rubinacci, the legendary Neapolitan atelier, will make you the suit of a lifetime in just one week.
How Phillip Lim Created a $100 Million Fashion Empire 
The celebrated designer shares the secrets to his success. But first, some paddleboarding.
The Six Suits You Need for Fall
Girl on the Train star Edgar Ramirez models the season's best formal fashion.
Go Bike Riding with Designer Paul Smith
The British style icon has been a bicycling obsessive for over 55 years.
Before it's here, it's on the Bloomberg Terminal.
LEARN MORE