Peru's Leader Breaks Tradition and Looks West for Investment
By
President Kuczynski visits China in his first trip overseas

Peru vies with Chile as China's biggest copper supplier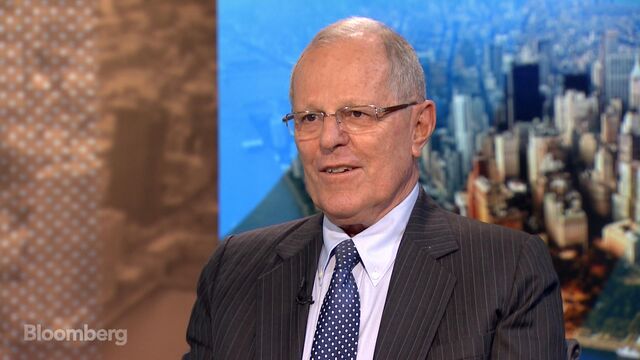 Peru's new President Pedro Pablo Kuczynski, a veteran of Wall Street and the World Bank, began his first visit abroad as head of state to China this week as he looks to drum up investment in mining and infrastructure. It is a sign of the times -- his three predecessors had all headed to the White House on assuming office.
Kuczynski held talks with Chinese President Xi Jinping on Tuesday in Beijing and will meet Premier Li Keqiang on Wednesday, and also plans meetings with executives from the banking, mining and other industries in Beijing and Shanghai throughout the week.
China overtook the U.S to become Peru's largest export market in 2014, purchasing $3.4 billion of mostly copper and other industrial metals in the first half of this year. Now Kuczynski, who took office July 28, is seeking to make good on a campaign pledge to lure Chinese investment to projects including a copper smelter and a coastal railway, while opening up new markets for Peruvian farm produce.
"We're here as a sign of admiration and respect to seek collaboration and solve the problems that my country has," Kuczynski said at an event in Beijing Tuesday.
China Minmetals Corp. and Aluminum Corp of China Ltd. are behind the biggest copper mines to be built in Peru in the past decade. Output from those mines fueled a 43 percent increase in Peru's copper sales to China in the first six months of this year, as surging volumes offset the slide in prices.

Peru supplies 25 percent of China's copper imports, while neighboring Chile accounts for 28 percent.
Chinese mining companies are ready to consider processing some of the copper they mine in Peru at smelters in the Andean country as they want to reduce pollution at home, Kuczynski told Lima-based Radio Programas after meetings in Beijing on Tuesday.
The president said Aluminum Corp. is interested in building an alloy plant in Peru while a Chinese iron and steel company showed interest in building a plant for making steel sheets.
China's biggest railway builder will look at Peru's proposal to build a coastal railway serving the Lima metropolitan area, Kuczynski said. The president said he expressed his reservations about the potential cost and environmental impact of a Chinese project to build a railway through the Amazon jungle of Peru and Brazil.
Non-Commodity Exports
It isn't just copper. Non-commodity exports are rising thanks partly to a free-trade agreement the two countries signed in 2009. Farm exports have become a focus for the government's efforts to diversify the economy away from metals after copper's value fell by half in the past five years.
"It's a strategic alliance of vital importance," said Cesar Alvarez, head of research at the Centrum Catolica business school in Lima. "Peru needs infrastructure investment to reduce logistics costs, and China also has the technology Peru needs to develop industries such as smelting, agriculture and forestry."
Peru's sales of fresh produce increased 3.4 percent to $4.3 billion last year. Shipments to China totaled $104 million in 2015, led by sales of table grapes, which was 5.8 percent less than 2014 and well below the $1.4 billion sold to the U.S.
Kuczynski will likely ask China to ease restrictions on Peruvian products such as avocado and blueberries, said Jessica Luna, general manager of exporter group ComexPeru. "There's a lot of room for non-commodity exports to keep growing," Luna said.
Kuczynski has said he plans to seek associate membership of the Beijing-based Asian Infrastructure Investment Bank during his visit to obtain financing for projects.
"We've not come to ask for a loan or a life jacket. We want to establish good relations for investment and agricultural exports," Kuczynski said in the radio interview.
More than 170 Chinese companies have offices in Peru and 300 Chinese executives will attend a Asia-Pacific Economic Cooperation business summit being organized by ComexPeru in Lima in November, Luna said.
Before it's here, it's on the Bloomberg Terminal.
LEARN MORE