Obama, McConnell Share Common Aims as Congress Leaders Meet
By and
Senate leader doesn't want a Zika fight with election looming

Top congressional leaders met with Obama Monday afternoon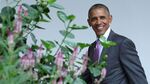 President Barack Obama and Senate Majority Leader Mitch McConnell don't usually have the same objectives, but their interests are in rare alignment as they met Monday afternoon with other congressional leaders.
With the election coming in less than two months and control of the Senate at stake, lawmakers are especially keen to get back on the campaign trail. That means Obama is likely to get most of the funding he has sought since February to tackle the Zika virus -- and that a government shutdown can be avoided.
Obama met with McConnell and House Speaker Paul Ryan, as well as Senate Democratic leader Harry Reid and House Minority Leader Nancy Pelosi.
"My hope is we can make some modest progress on areas we agree," Obama told reporters afterward.
'Pretty Quickly'
McConnell said that it was a good meeting focused on resolving the funding issue.
"I think we're all in a very good place to do that on a bipartisan basis pretty quickly," he told reporters at the Capitol.
McConnell hasn't waited around for the fractious House GOP to get its act together, announcing last week he would negotiate with Reid and the president on Zika as part of stopgap funding for most of the government until early December. Current funding runs out on Sept. 30, the end of the government's fiscal year.
But there are several issues that could still derail a smooth negotiation over the spending measure. The White House has asked Congress to help restore the full authority of the U.S. Export-Import Bank to issue loans. The bank says a deal would free up a more than $20 billion backlog from more than 30 export deals requiring board approval. 
Separately, a number of Republicans are demanding a provision that would force the U.S. government to retain its oversight over Internet domains after Oct. 1.
Flood Funding
Lawmakers also may discuss demands for extra funding to cope with flooding in Louisiana after a severe storm. The entire Louisiana congressional delegation wrote a letter to Obama on Monday asking for supplemental disaster funding, while a bipartisan group of Texas lawmakers separately wrote on Monday to congressional leaders asking for more money to respond to recent floods in Texas.
But John Cornyn of Texas, the No. 2 Senate Republican, said Monday afternoon that he expected flood-related funding to be debated after the election in the lame-duck session.
The Zika spending may be the easiest issue to resolve. Florida Senator Marco Rubio -- who has buoyed Republican hopes for retaining the Senate after declaring he would run for re-election -- told reporters last week he expected the Senate to once again take up a $1.1 billion Zika bill passed earlier this year by the Senate. That bill would exclude House-passed provisions that Democrats have declared poison pills, including one that Democrats say would effectively prevent Zika money going to Planned Parenthood.
For Rubio and other Republicans running for re-election, Congress's failure to act on Zika is a potential vulnerability, even as Democratic senators have repeatedly blocked the House's version of the bill.
On the House side, Ryan and many of his rank-and-file Republicans appear willing, or resigned, to whatever short-term spending measure the Senate can send them. But House conservatives, who would prefer to fund the government into next year, may demand policy changes.
Skeptical Conservatives
Among those conservatives are Representative Bill Flores of Texas, chairman of the Republican Study Committee, a bloc of about 174 House conservatives. But Flores concedes that House Republicans are backed into a corner, blaming Reid for blocking longer-term appropriations and McConnell for caving to Reid on a short-term spending bill.
Flores said that if Republican leaders were going to pursue a stopgap funding bill, he wants to see provisions that would block Syrian refugees from entering the U.S. and that would prevent the administration from turning over oversight of Internet domains to an international group.
Another conservative House group, the Freedom Caucus, also has been pushing for a longer-term bill, but now say they may accept a short-term version if a pause on Syrian refugees is included.
"We still want a longer spending bill," said Representative Mark Meadows, a Freedom Caucus member. "We haven't given up on a longer term bill. But we're also searching for middle ground."
The approach to Zika funding could still meet some resistance in the House. Republican Representative Phil Roe, a medical doctor from Tennessee, says he will fight any plan that includes allows Planned Parenthood to receive funding.
The Export-Import Bank fight is more complicated. Rubio and Senator Pat Toomey of Pennsylvania tout their opposition to the bank, which they consider to be corporate welfare, on the campaign trail. Other endangered Republicans in both chamber support the bank, saying it helps create jobs by providing low-cost financing for exports.
Ryan and McConnell each have opposed the bank, but allowed it to be reauthorized by strong majorities last year anyway.
Before it's here, it's on the Bloomberg Terminal.
LEARN MORE