Monte Paschi Said Planning to Name Morelli as CEO This Week
By and
Morelli appointment said to need informal ECB approval

Padoan tells RAI that bank will appoint a new CEO on Wednesday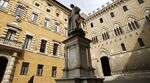 Banca Monte dei Paschi di Siena SpA, the Italian lender seeking to raise 5 billion euros ($5.6 billion), plans to propose Bank of America Corp.'s Marco Morelli as its new chief executive officer this week, according to people with knowledge of the matter.
Chairman Massimo Tononi and other members of the bank's nomination committee may meet representatives of the European Central Bank in Frankfurt on Tuesday, seeking informal approval, the people said, asking not to be identified because the matter is private. The new CEO will be appointed at a board meeting on Wednesday, Italian Finance Minister Pier Carlo Padoan told RAI television on Monday, without commenting on the candidate.
Morelli runs Bank of America's Italian operations and was once Monte Paschi's chief financial officer. Officials at the Siena-based lender and the ECB declined to comment, as did a spokeswoman for Morelli.
"Timing for a reshuffle is very tight, given the bank's need to rapidly present to the ECB a new business plan," Luca Comi, an analyst at ICBPI, wrote in a note Monday. "The change of CEO, however, could lead to a delay of approvals of the bank's plan."
Restructuring Plan
The new CEO will oversee a third share sale in two years to bolster, with the bank seeking to shift 28 billion euros of bad loans off its balance sheet. Monte Paschi ousted CEO Fabrizio Viola last week after he failed to restore investor confidence in the troubled lender that has lost about 80 percent of its market value this year.
With mounting bad loans and losses on derivatives bets undermining earnings, Viola was forced to take state funds and had tapped investors for 8 billion euros since 2014. The lender still posted the biggest capital gap in European stress tests held earlier this year.
Morelli, who left Monte Paschi in 2010 to join Italy's Intesa Sanpaolo SpA, is expected to push ahead with the current restructuring plan, working with the bank's advisers to define the structure of the capital increase, according to the people.
Healthy Banks
The bank's advisers are considering a debt-for-equity offer to cut back the 5 billion-euro stock sale envisaged in the bank's current turnaround plan, people familiar with the matter have said. The troubled Italian lender may propose that bondholders have the option of converting as much as 90 percent of the 5 billion euros of outstanding subordinated notes, they said.
The bank will raise capital as soon as market conditions allow it, Padoan said. The bank's plan will demonstrate "once and for all" that Italy's financial sector is healthy, he added.
Morelli was Monte Paschi's deputy general manager when the lender bought Banca Antonveneta, a purchase that stretched the bank's finances just as bad loans started building up. He later became the lender's chief financial officer through 2010. Derivatives bets the bank struck in 2008 and 2009 later backfired and masked losses, prompting the company to restate accounts twice.