French Presidential Candidate Juppe Opens Up and Gets Personal
By and
Republican's pamphlet aims to debunk image he's cold and aloof

As candidates pile up, campaign messages get more personal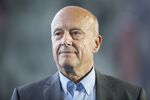 French presidential hopefuls used to be able to keep their private lives just that -- private. No more.
As the candidates in the 2017 presidential elections rev up their campaigns, they're having to bare their souls and give the French a peek into their personal lives. So much so that the front-runner in the polls, 71-year-old former prime minister Alain Juppe -- long seen as aloof, standoffish, arrogant and cold -- felt compelled to pen a pamphlet entitled "Between You and Me," which was released on Friday.
While far from a tell-all leaflet, the 44-page tract lays out the influences that have made Juppe the man he is: from his "happy" childhood in southwestern France to his modest railway employee grandfather. The effort to create a narrative is not unlike what U.S. Democratic Party candidate Hillary Clinton did in her July acceptance speech when she talked about her father's work values and her mother's challenges. For French candidates, that approach is new and their challenge is to strike a balance between showing their human side while still maintaining some presidential mystique, political analysts say.
"Politicians don't want to look like robots, but at the same time, voters really don't like them to over-expose themselves," Carine Marce, a pollster at TNS-Sofres in Paris, said.
As an increasing number of candidates -- more than 25 at last count -- join the fray, contenders from both the ruling Socialist Party and the opposition Republicans are striving to reach a broad range of the French electorate that's both disillusioned with the country's politicians and struggling with an economy that's limping along with unemployment at close to 10 percent.
Poll Lead
Juppe, the Republicans's leading candidate, has an edge in the polls over his nearest party rival, former President Nicolas Sarkozy. With Sarkozy, 61, officially declaring his candidacy last month for the party's primaries in November, Juppe -- currently the mayor of France's wine capital, Bordeaux, and a grandfather of three -- is trying to hang on to his lead by seeking to debunk his elitist image.
"Everyone knows I don't like to talk about myself," Juppe said in an e-mail on Friday to supporters with a link to a free download of the pamphlet. "I don't know of anyone who doesn't love to be loved. What matters to me isn't popularity at all cost, but to create a special bond based on esteem and trust."
Sarkozy was among the few French politicians to use his personal life to create a narrative, regaling his audience during the 2007 campaign with tales about his Greek-born Jewish grandfather who converted to Catholicism and asked for the French citizenship. Since then, the French media -- which kept former President Francois Mitterrand's love-child and former President Jacques Chirac's sick daughter out of the public eye -- has made the personal lives of presidents fair game.
Celebrity Press
Sarkozy's very public divorce from his wife, Cecilia, in 2007 and his marriage to model-turned singer Carla Bruni soon after provided fodder for magazines. In 2014, President Francois Hollande's affair with an actress was splashed all over the celebrity press. He then separated from his journalist partner, Valerie Trierweiler, who published a bitter kiss-and-tell bestseller.
In a speech on Thursday, Hollande, who most likely will seek re-election, tried to squeeze in a personal touch by alluding to his role as a father when he sought to empathize with the hard lives of parents. His actress girlfriend Julie Gayet has been on the cover recently of two of France's biggest circulation magazines.
Hollande's former Economy Minister Emmanuel Macron, an ambitious 38-year-old who has hinted at his possible candidacy, has been on the cover of celebrity magazine Paris Match with his wife -- who is about 25 years older than he is -- twice over the past year, with the articles touching on their routine and their life together.
Juppe's Stand
For Juppe, who has been in the public eye for a long time, the challenge has been to provide new insights into who he is. His lead over Sarkozy has been narrowing. Juppe would get between 52 percent and 59 percent in a run-off against Sarkozy, according to a TNS Sofres poll in Le Figaro on Aug. 28. He had between 57 and 62 percent in a June poll.
Before his latest leaflet, Juppe published three pamphlets with his proposals for employment, education and security. He's campaigning on a pro-market, business-friendly platform, pledging to abolish the 35-hour workweek, cut taxes and make it easier to hire and fire. His record with difficult reforms, however, hasn't been impressive. Juppe's attempt, as Chirac's prime minister, in 1995 to cut public sector retirement benefits led to a series of crippling strikes that forced the government to backtrack. 
In the new pamphlet, Juppe takes on a touchy matter: his conviction in 2004 in an illegal party financing case from his time as head of France's main center-right party between 1983 to 1995. Forced to give up his electoral positions in France, he went to Quebec to teach, returning to France in 2006 to be elected mayor of Bordeaux. Juppe stresses that the financing was never for personal gain, adding that he takes responsibility for being part of a corrupted political system, and entitling that chapter of this life as "The Desert."
For all that, the candidate's new-found openness has limits: His wife, Isabelle, stays out of the limelight. Asked what she does, Juppe's aide told Bloomberg she works for a large French company, declining to provide more details. Not everything needs to be said, the aide added, declining to be named.
Before it's here, it's on the Bloomberg Terminal.
LEARN MORE