Labour Likely Loser as New U.K. Electoral Boundaries Proposed
By
Leader Corbyn sees his Islington seat disappear in proposals

Plans were drawn up based on old electoral data, warn critics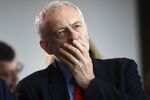 The official plan to redraw Britain's political boundaries is likely to benefit the governing Conservative Party at the expense of the Labour opposition, with Labour leader Jeremy Corbyn among those who see their seats disappear.
The Boundary Commission for England on Tuesday published its proposed maps for the areas on which the 2020 general election should be fought. As the total number of seats in Parliament is supposed to fall to 600 from 650, the drafts set up a game of musical chairs in which lawmakers try to ensure they still have a seat. On Monday, lawmakers stood in line along the length of Parliament's Portcullis House building to find out what was happening to their districts.
London is set to lose five seats, including Corbyn's Islington North. Under previous plans, abandoned before the 2015 election, more than half of the seats lost would have been ones held by Labour. The Electoral Reform Society criticized the plans, saying they were based on out-of-date electoral data that missed out many voters who registered for this year's Brexit referendum.
"Areas with the lowest levels of registration are often those that already have the least voice in politics," Katie Ghose, the society's chief executive, said in a statement. "Young people, some ethnic-minority groups and those in the private rented sector are all less likely to register to vote than others. What's more, the review is being undertaken on the basis of a register that's nearly a year out of date, excluding over 2 million people who signed up between December and June."
The proposals will now go out to initial consultation until December. The commission has to produce its final decision in September 2018.
Before it's here, it's on the Bloomberg Terminal.
LEARN MORE