Juncker Seeks 'Clarifications' From Barroso on Goldman Post
By
European Commission wants to see ex-president's work contract

Barroso to be received as 'lobbyist' not as former president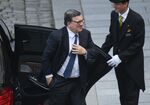 The European Commission will ask its former president, Jose Barroso, for "clarifications" about his new position at Goldman Sachs Group Inc. and request a copy of his contract after ethics officials in Brussels raised questions about the advisory position.
The Brussels-based commission will ask Barroso, who also is a former Portuguese prime minister, "to provide clarifications on his new responsibilities and the terms of reference of his contract" at Goldman Sachs, Jean-Claude Juncker, who succeeded Barroso as commission president, said in a reply to a Sept. 5 letter from European Ombudsman Emily O'Reilly questioning Barroso's role advising Goldman on the U.K.'s exit from the European Union.
Juncker also said that "Barroso will be received in the Commission not as a former President but as an interest representative and will be submitted to the same rules as all other interest representatives," according to the letter, which is dated Sept. 9.
"When former President Barroso comes here to the commission, he will be received as representative of interests, as a lobbyist really -- and not as a former president of the European Commission," commission spokesman Alexander Winterstein told reporters in Brussels on Monday. "So all of the rules, which are very strict as you know, will apply."
Barroso's appointment, less than two years after he left the EU executive, raises concern "given the importance of his former role and the global power, influence and history of the bank with which he is now connected," O'Reilly said. She asked whether the commission's Brexit negotiator, Michel Barnier, and other officials would be advised on how or whether to engage with Barroso.
Goldman Sachs said on July 8 that Barroso, who headed the commission from 2004 to 2014, will serve as non-executive chairman of its international unit and help advise on global issues.
"Former President Barroso will be treated as an interest representative -- that follows logically from our very strict rules and from the fact that he is working for this bank with this work assignment," Winterstein said.