Hanjin Says More Vessels to Unload at Long Beach After Ruling
By and
Hanjin Greece set to depart early Sept. 12 on clearing cargo

U.S. bankruptcy court order clears way for easing gridlock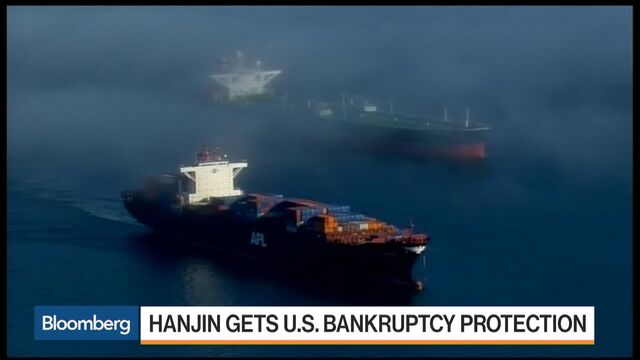 The beleaguered South Korean container line Hanjin Shipping Co. said Monday more vessels are in line to unload cargo at Long Beach port in California after a U.S. court Friday granted bankruptcy protection, easing a gridlock that disrupted delivery of goods.
Three more Hanjin ships are waiting at the port to clear their freight once Hanjin Greece, which is currently offloading, clears early Sept. 12 local time, Hanjin said in response to a query. Port workers began taking Hanjin Greece's cargo ashore at 8 a.m. local time Sunday, and the Hanjin Gdynia will follow, Noel Hacegaba, chief commercial officer of the Port of Long Beach, said in a telephone interview Sunday.
The Hanjin Greece is carrying "electronics, furniture, footwear and virtually anything a consumer would expect to find on the shelves leading up to the holiday season," Hacegaba said.
After roiling the global supply chain for more than a week since the company applied for court receivership on Aug. 31, Hanjin Shipping won some respite over the weekend after its biggest shareholder, Korean Air Lines Co., agreed to inject 60 billion won ($54 million) to help pay for handling charges at ports. 
The map below shows the locations of Hanjin's container ships.

Together with the U.S. bankruptcy court's decision, this means Hanjin vessels can dock and unload some of the estimated $14 billion of goods for companies including Samsung Electronics Co. and Nike Inc. that have been stuck during the peak shipping period ahead of the U.S. Thanksgiving and Christmas shopping season. South Korea's trade ministry said Sunday it will offer 400 billion won of low-interest loans to Hanjin's vendors and small freight forwarders to tide over a spurt in transportation costs.
"While it will take some time to fully resolve the situation, we expect slowly to start seeing some improvements," the government said in a statement.
U.S. Bankruptcy Judge John K. Sherwood in Newark, New Jersey, on Friday granted Hanjin Shipping protection under Chapter 15 of the Bankruptcy Code, which shields foreign companies from lawsuits by U.S. creditors while they reorganize in another country. Sherwood had given provisional protection on Sept. 6, and his latest ruling broadened that legal shield and extended it.
Objections Raised
The U.S. relief was granted over an objection from two terminal operators that warned of docking disasters, with one citing the fear that Hanjin ships would be stuck in its berths, unable to afford the fuel needed to depart.
The South Korean government said Saturday it will work with the court, Hanjin Shipping, Hanjin Group and creditors to solve financial issues faced by the company in unloading cargo.
It also said nine more vessels will be deployed to Southeast Asia to take on cargo from Hanjin's ships and help alleviate disruptions to the global supply chain, without identifying the companies involved.
Separately, Hyundai Merchant Marine Co. previously said it would deploy nine vessels to Europe and four to the U.S., as well as form an alliance with three other South Korean lines to offer services to Southeast Asia to minimize disruptions in the region.
Terminal Stake
Korean Air's board met Saturday and agreed to offer the funds provided Hanjin Shipping hands over its stake in a terminal at the Port of Long Beach as collateral, after failing to reach a decision in two previous meetings.
The money is part of 100 billion won that Hanjin Group, which controls Korean Air, said Sept. 6 that it would provide to help ease the supply-chain disruptions. The amount includes 40 billion won that Chairman Cho Yang Ho plans to offer next week. South Korea's ruling Saenuri Party also proposed that the government offer about 100 billion won in low-interest loans on condition the owners provide collateral.
Hanjin Shipping, the world's seventh-largest container shipping line, fell victim to a global trade slump and container overcapacity that have depressed freight rates and piled up debt at the company. The shipping line applied for Chapter 15 protection in the U.S. on Sept. 2.
The filing came after lenders led by Korea Development Bank on Aug. 30 rejected a restructuring proposal by the Seoul-based company, which had been trying to reschedule debt under a voluntary creditor-led program since May.