This Chinese City Is Performing Better Than Shanghai
Bloomberg News
Milken Institute relases 'Best-Performing Cities China' index

City in Guizhou benefits from 'One Belt, One Road' development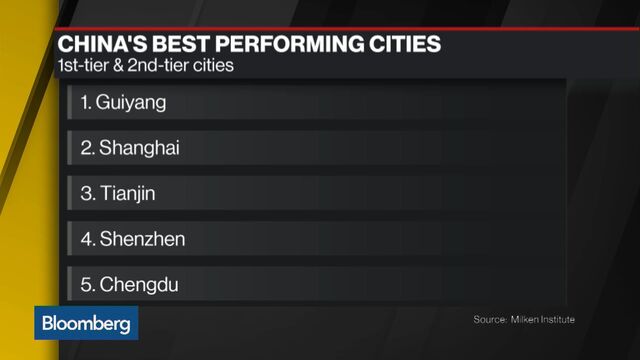 Guiyang, the capital of China's poor-but-fast-growing Guizhou province, edged out financial capital Shanghai as the nation's top performer, a ranking by the Milken Institute shows.
The northern port city of Tianjin was third among the country's biggest cities, followed by Shenzhen and last year's top city, Chengdu, according to a report released Monday by the Santa Monica, California-based think tank founded by Michael Milken. Dalian, Nanchang, Chongqing, Xian, and Haikou rounded out the top 10.
Despite being in the less-developed southwest, Guiyang catapulted from No. 11 in last year's inaugural ranking and leapfrogged bigger, wealthier coastal megacities. The city of 4.6 million is benefiting from a central government push to connect coastal and inland regions and infrastructure investment related to President Xi Jinping's One Belt, One Road initiative to revive China's ancient trade links to Asia and Europe, the report said.
"The government's plans, as well as geography, favor the region," Perry Wong, managing director of research at Milken, said Monday in a Bloomberg Television interview in Beijing. "When we look at Guiyang, we look at the low base of the economy, because this is one of the slightly, if you will, less-developed first tier cities, and we look at upside potential."
The ranking incorporates growth in economic output, jobs and wages over one and five years, as well as per-capita growth, foreign direct investment growth and the proximity of high value-added industry employment, according to the institute, which has published a similar index on U.S. cities since 1999.
— With assistance by Jeff Kearns
Before it's here, it's on the Bloomberg Terminal.
LEARN MORE