German Utilities, Merkel Close to Nuclear Deal, EON CEO Says
By , , and
Nuclear phase-out costs close to EU23.3 billion, Teyssen says

Teyssen says EON liabilities of about EU8 billion unchanged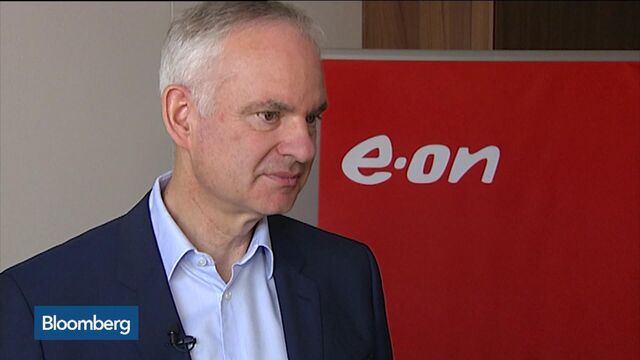 Germany's nuclear industry and Chancellor Angela Merkel's government are close to sealing a deal on how much atomic power station operators will pay for wrapping up the nation's nuclear era, according to the head of EON SE, Germany's largest utility.
An agreement may be clinched this month and is "very close" to an independent commission's recommendation that utilities bear the 23.3 billion-euro ($26.1 billion) cost for nuclear waste storage, Johannes Teyssen, chief executive officer of EON, said in a Bloomberg Television interview in Berlin. EON, RWE AG, Energie Baden-Wuerttemberg AG and Vattenfall AB have been debating the proposals before expected legislation this fall. 
Wrangling over who bears what cost and when to end Germany's 60-year nuclear era has focused on unforeseen risk. The "Big Four" utilities have lobbied for clauses offering watertight exclusion from unexpected future liabilities amid concerns over the impact such costs will have on the companies' financial health. A deal between utilities and the government would mean the taxpayer pays for storage costs above a set threshold.
"No number has changed" for EON's provisions for waste disposal, Teyssen said. The company has set aside about 8 billion euros for transporting and storing spent fuel rods.
EON Spinoff
EON cut most ties to its legacy power stations burning coal and gas with the listing today of its Uniper SE unit. EON's shares fell as much as 3.6 percent to 6.92 euros Monday.
Merkel pulled the plug on the nation's nuclear industry in 2011 after the Fukushima catastrophe in Japan. Germany's eight remaining reactors must close by 2022. They generated 14 percent of Germany's power last year.
As nuclear phase-out talks kicked off earlier this year, the four utilities said they'd earmarked about 17 billion euros to pay for nuclear waste storage. The costs proposed by the commission in April includes a "risk premium," or insurance payment, against unexpected costs.
Germany's plan to put nuclear waste in permanent storage from 2050 has been dogged by disputes, highlighting the utilities' concerns over unforeseen costs. No region has been selected for a permanent home for the waste and no region has stepped forward as a volunteer. Parliament won't decide on a storage site before 2031 at the earliest.
An agreement between the government and the utilities over the nuclear phaseout means "manageability and predictability" for EON in pulling out of the industry, Teyssen told reporters in separate comments today. "The issue will finally free itself of political influence."
The utilities will be offered separate contracts that set out their specific liabilities, the Economy and Energy Ministry said last month. The contracts will become appendages to legislation that spells out nuclear phaseout costs common to the companies, the ministry said.
Before it's here, it's on the Bloomberg Terminal.
LEARN MORE