Deutsche Bank CEO Says Asset Management Is 'Essential Part'
By
Cryan tells staff not to become distracted by 'speculation'

Business environment remains 'challenging,' CEO writes in memo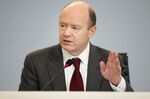 Deutsche Bank AG Chief Executive Officer John Cryan said the asset-management business will remain an "essential part" of the company, responding to media reports that the German lender is considering selling the division to shore up its capital.
"Do not allow yourself to become distracted by speculation about alleged mergers or sales plans," Cryan said in a letter to employees on Monday. "There is one rumor in particular that I would like to dispel by making it unambiguously clear that Deutsche Asset Management is, and will remain, an essential part of our business model."

Cryan, 55, is seeking to restore investor confidence as mounting legal costs and restructuring charges undermine earnings and capital. The CEO said last month that he's not looking for a tie-up with German rival Commerzbank AG and is instead shrinking the company, eliminating thousands of jobs as part of a plan unveiled last year.
"It would be a clear sign of weakness if they'd sold asset management," said Andreas Plaesier, an analyst at Warburg Research with a hold recommendation on the shares. "It has a relatively good reputation and this could prove to be a good asset in a world with growing wealth."
The shares fell about 4 percent to 13.11 euros at 11:01 a.m. in Frankfurt. They have dropped about 41 percent this year, making the lender the fourth-worst performer on the Bloomberg Europe Banks and Financial Services Index, which slipped 22 percent.

The asset-management division reported a 35 percent drop in pretax profit to 171 million euros ($192 million) in the second quarter from a year earlier. The company's profit was almost wiped out by a slump in trading in the period.
'Challenging Environment'
"The business environment is challenging, with persistent low interest rates and ever increasing regulatory requirements," Cryan wrote. "Within the bank, we are not yet where we want to be. We therefore have no time to waste."
Cryan has already said that 2016 will be the peak restructuring year and that he aims to settle major outstanding legal issues. Deutsche Bank had 5.5 billion euros set aside for settlements and fines at the end of June, with Chief Financial Officer Marcus Schenck saying that the lender will probably face "material" litigation charges in the second half.
Germany's biggest bank is nearing a settlement with U.S. authorities on an investigation into the sale of residential mortgage-backed securities, Manager Magazin reported on Friday.
"We have enough on our plate to solve on our own, and we intend to concentrate on this for now," Cryan wrote Monday. "We want to resolve further important litigation cases and we are now approaching the finish line in our second and third round of negotiations with employee representatives in Germany."