Deutsche Bank: An 8-10% Selloff 'Looms' As Volatility Returns to U.S. Stocks
The death of volatility has been greatly exaggerated.
By and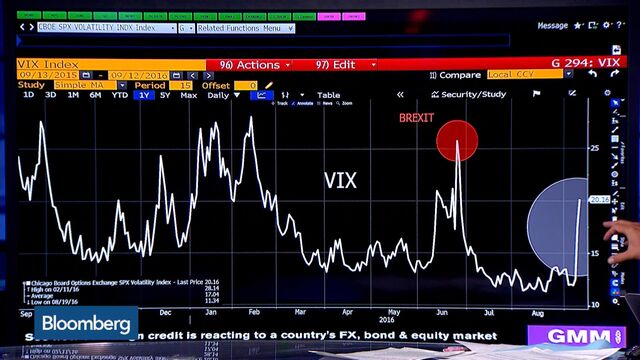 Volatility awoke from its summer slumber last week, with the Chicago Board Options Exchange's VIX index spiking on Friday to close above 20 for the first time since the sessions following the Brexit vote.
The index, sometimes known as Wall Street's fear gauge, might have further to go.
Deutsche Bank AG Chief U.S. Equity Strategist David Bianco sees five reasons why autumn will be characterized by a move to a higher volatility regime:
Profit expectations for the year ahead will be cut amid a disappointing third-quarter earnings season;
The Federal Reserve will stay on hold in September and offer little hints as to when its next move might be, fostering uncertainty;
Uncertainty that will only be increased by the U.S. elections;
Capital spending will remain in the doldrums; and
Stock valuations are only justified by low bond yields, which aren't as low as they used to be after last week's price action.
The strategist cautions that on volatility, as is the case with any other asset class, past performance is no guarantee of future results. Bianco said an 8 to 10 percent decline in the S&P 500 index "looms" in light of these factors that should lead to more turbulent markets.

"We take concern with this very low vol[atility] amidst low volume and high [price-to-earnings ratios]," he writes. "One of our favorite risk sentiment indicators, which we use in a contrarian fashion, the PE/VIX ratio signals a very complacent market."
Strategists at Bank of America Merill Lnych also detailed how a pick-up in volatility could provide the fuel for a brisk selloff in equities. They warned that a build-up of long, levered positions at certain quantitative-focused and trend-following managed futures funds amid the period of market tranquility might be prone to delevering as volatility jumps higher.
"As a result of Friday's decline, we estimate multi-asset vol[atility]-controlled portfolios that use a systematic approach similar to our models may be subject to $12 billion in global equity selling pressure in the coming days ahead," writes a team led by Equity Derivatives Strategist Chintan Kotecha.
The strategists estimate a further $40 billion of near-term selling pressure lurks among Commodity Trading Advisors (CTA) funds.
"We believe the market is wrongly priced by sector for a sustained acceleration in trend U.S. growth led by industrial activity or perhaps a sharp decline in the dollar that boosts commodities and increase U.S. share of global capex," concluded Deutsche's Bianco. "We see neither scenario as likely, thus a relative revaluation of sectors is needed soon."