Cheapest Treasuries in Four Months Too Costly for Morgan Stanley
By
Hornbach says sell 10-year notes versus three-, 30-year paper

Sticks with call to buy five-year notes as sees Fed on hold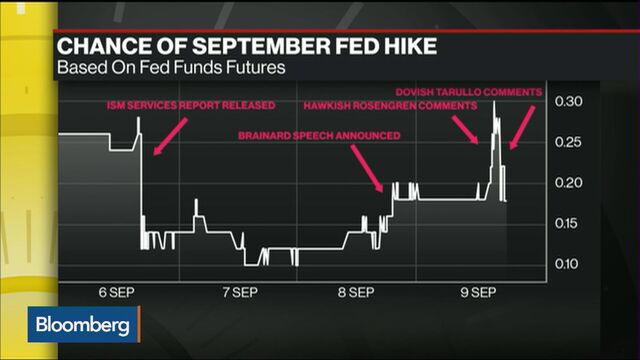 Morgan Stanley says it's time to sell 10-year Treasuries against both longer- and shorter-dated U.S. debt, just as the notes dropped to their cheapest level in four months.
The Wall Street firm says the notes due in 2026 look overpriced relative to three- and 30-year paper, based on a so-called butterfly spread. At the same time it's sticking to a bullish call on five-year notes, based on its view that the Federal Reserve is likely to forgo raising interest rates in 2016. The U.S. government auctions three- and 10-year debt later on Monday. The Federal Open Market Committee meets next week, with futures signaling 60 percent odds of tighter policy by year-end.
"Maintain long 5s as a Fed play, sell 10s on the fly to hedge," Morgan Stanley analysts led by Matthew Hornbach wrote in a client note dated Sept. 9. "We remain skeptical of a Fed hike this year and think the market-implied probability should be less than 50 percent."

The yield on benchmark 10-year Treasuries rose one basis point, or 0.01 percentage point, to 1.66 percent as of 7:05 a.m. in New York. The debt ended last week with its worst two days since July, in a rout that sent yields up 14 basis points.
The 3-10-30 butterfly spread was at 3.88 basis points, the cheapest level for the benchmark note since May 10 on a closing basis. It ended at a more than nine-year low of minus 8.8 basis points on July 8.
The Treasury plans to auction $24 billion of three-year debt and $20 billion of 10-year notes on Monday before offering $12 billion of 30-year bonds on Tuesday.
Labor Slack
The five-year security's yield increased one basis point to 1.23 percent. It reached a three-year low of 0.89 percent on June 24, in the aftermath of the U.K. vote to leave the European Union.
Morgan Stanley predicts the Fed will leave policy unchanged at a meeting ending Sept. 21, arguing there continues to be slack in the labor market amid an absence of inflationary pressure.
A bond-market gauge of inflation expectations over the coming decade -- known as the 10-year break-even rate -- slipped to 1.51 percent from as high as 1.54 percent last week, a level unseen since the Brexit referendum.
Market-implied odds of a rate increase this month stand at 30 percent, from as low as 16 percent in August, after Chair Janet Yellen added her voice to a chorus of Fed officials who had suggested the case for tighter policy had risen.
Fed Governor Lael Brainard speaks Monday, the last scheduled appearance before U.S. central bankers go into their traditional pre-meeting quiet period ahead of a gathering.
Boston Fed President Eric Rosengren said Friday that waiting too long to raise rates threatens to overheat the economy, while arguing that labor markets have continued to tighten. Morgan Stanley's Hornbach is less sanguine.
"The Fed should be doing everything it can to increase the chance of driving core inflation closer to the 2 percent goal," the strategist wrote. "We see near-term downside risks to breakeven aplenty."