Canada's Morneau Says China's AIIB Isn't a World Bank Rival
By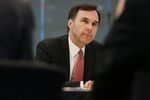 Canada's finance minister said he doesn't believe the China-led Asian Infrastructure Investment Bank is a rival to the Washington-based World Bank.
Bill Morneau, speaking in an interview last week in Hong Kong, said the $100 billion Asian investment bank has proven it is a well-governed institution that will be a positive contributor to growth. The World Bank, meanwhile, is making a real difference on refugee and global health issues, Morneau said, adding he supports a second term for President Jim Yong Kim.
Canada's decision to become a member of the Asian bank was a diplomatic victory for President Xi Jinping. It will become the first North American country to join, leaving the U.S. and Japan as the only Group of Seven holdouts.
"The goal of having more access to capital for infrastructure investment in Asia is a very positive goal in terms of actually dealing with some of the challenges faced in some Asian countries around infrastructure development," Morneau said, adding the U.S. "can understand" Canada's decision to join.
Canada will support the U.S.'s decision to nominate Kim for a second term at the World Bank, Morneau added. "We think Kim has done a good job. We think he's been focused on issues that are going to have a real impact."
Before it's here, it's on the Bloomberg Terminal.
LEARN MORE