Brexit Bulletin: Frankfurt Gets Flexible, But Where Are the Desks?
It's all very well seeking London's bankers, but you need to find somewhere to put them.
by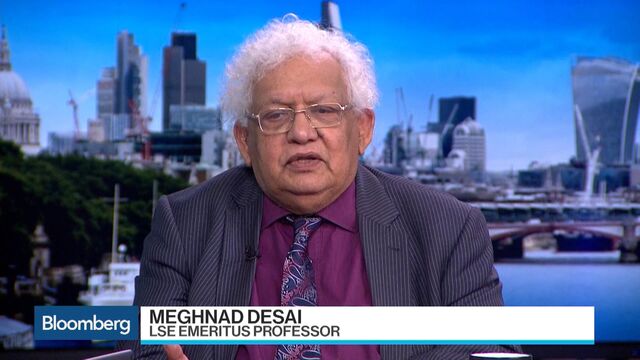 Sign up to receive the Brexit Bulletin in your inbox.
Banks looking to flee London because of Brexit are finding it hard to secure real estate elsewhere.
Vacancy rates for prime space in the business districts of Paris, Frankfurt and Amsterdam are at the lowest levels in a decade, Bloomberg's Gavin Finch reports.  In Dublin there are currently no buildings big enough for the thousands of staff banks may want to relocate when Britain leaves the European Union.
"There's no obvious successor to London," said Matthew Fitzgerald, head of European tenant representation at property broker Savills. "It could take several years to see a financial cluster of a similar scale."
One rival to London is nevertheless looking to level the playing field before taking aim at London. Hesse, home to Germany's financial hub Frankfurt, is exploring ways to loosen employment law to allow banks to easily fire highly paid employees in a downturn, according to Bloomberg's Birgit Jennen.  
Weekend Recap
On the home front, U.K. Chancellor of the Exchequer Philip Hammond said the U.K. won't lower its corporate tax rate below 17 percent, while Home Secretary Amber Rudd said  work permits are being considered for post-Brexit Britain. Foreign Secretary Boris Johnson backed a new pro-Brexit group, and Trade Secretary Liam Fox said corporate executives have become too lazy to export.  
There were fresh threats from abroad. Malta's prime minister warned the EU's migration talks with Switzerland would impact the Brexit negotiations, and Denmark's leader demanded the U.K. not end up with a competitive edge. Potential French presidential contender Emmanuel Macron opposed letting U.K.-based banks keep the "passport" that lets them operate across the bloc. And while European Commissioner Pierre Moscovici said Britain needed to start talks in early 2017 at the latest, the man running the Nordic region's biggest bank said Brexit could take five years.
Week Ahead
Brexit Secretary David Davis testifies this afternoon and again on Tuesday. Bank of England policy makers meet on Thursday to assess the economic outlook after data on inflation and unemployment are released.
Elsewhere, Britain's waning clout in the EU will be on display this week, which ends with EU leaders meeting in Bratislava for talks at which the U.K. won't be represented, for the first time in 43 years.
Julian King, the U.K.'s new appointee to the European Commission, will appear today at a confirmation hearing on his new role as EU counter-terrorism chief. It's a slim, freshly created portfolio that's being squeezed between existing commissioners. And European Commission President Jean-Claude Juncker will deliver his vision of the future on Wednesday. 
Bulgaria's Challenge
Bulgaria joined Poland and the Czech Republic in insisting that the U.K. adheres to rules on free movement of labor in return for access to the single market in goods and services.
"The political challenge is to work out a common European position," Deputy Prime Minister Tomislav Donchev told Bloomberg. "If member states' positions are strongly diversified, it'll be much harder to negotiate."
"How much Europe do we want? For a geographically peripheral European country directly exposed to all crises, this question has substantial meaning. If the outcome is a political construction in which the core EU countries have different status from the states on the periphery, my forecast is that this will generate risks for the core countries."
On the Markets
The pound's relative calm could be challenged this week as the Bank of England returns to center stage with its latest rate decision. Even as it ended a three-week run of gains last week, measures of the currency's expected swings versus the dollar dropped to levels not seen since before the date for Brexit referendum was announced.

On the markets, a global selloff sent many European indexes tumbling the most since the week after the Brexit vote. 

Meanwhile, the U.K.'s newest derivatives exchange, backed by London Stock Exchange Group, is pressing ahead with plans to debut later this month despite headwinds such as the Brexit vote.
And Finally...
A weaker pound is making it even cheaper for Hollywood studios to outsource movie-making to the U.K., which has produced three of the world's five biggest visual-effects companies. That means Brexit may not dent London's status as a global hub for film production, Stephanie Baker writes in the latest edition Bloomberg Businessweek. 
For more on Brexit follow Bloomberg on Twitter, Facebook and Instagram, and see our full coverage at Bloomberg.com
Before it's here, it's on the Bloomberg Terminal.
LEARN MORE