markets
Brazil Real Gains as Fed Speech Offsets Protests Against Temer
By and
Fed Governor Brainard expressed prudence on rising rates

Thousands gathered in Sao Paulo to chant 'Temer Out'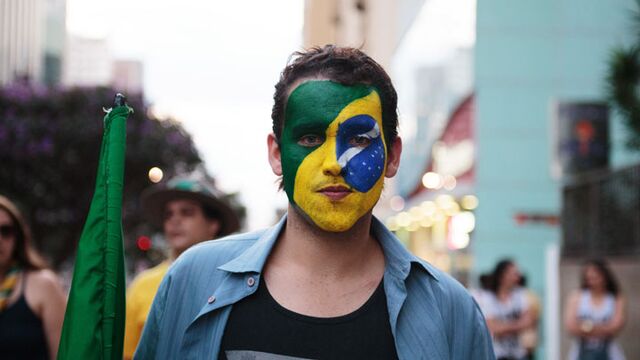 Brazil's currency advanced after a U.S. Federal Reserve Governor played down the case for tightening monetary policy, offsetting local political concerns after protests against President Michel Temer.
The real gained 0.8 percent to 3.2476 per dollar Monday in Sao Paulo, after sliding as much as 1 percent earlier on concerns that political disputes could delay efforts of the government to shore up the budget deficit.
The real is particularly sensitive to global interest rates because it's one of the most popular currencies for the so-called carry trade, in which investors borrow in dollars, yen or euros and buy emerging-market currencies to take advantage of higher yields. Lael Brainard, in the last comments from a Fed official before it enters its quiet period, urged continued prudence in raising rates.
"Money is flowing to emerging markets on a hunt for yield, but at some point the party will have to end," said Hideaki Iha, a currency trader at Fair Corretora de Cambio e Valores in Sao Paulo.
The real earlier slid as demonstrators marched in Sao Paulo on the second Sunday of protests since the impeachment of Dilma Rousseff, calling into question the ability of Temer to unify a deeply divided country. Brazilian assets have led global gains this year on speculation that a new government would pull Latin America's biggest economy from its worst recession in a century. Protesters pledged to resist Temer's government, which they described as illegitimate and the result of a coup d'etat.
"All these protests against Temer are not helping," said Georgette Boele, a currency and commodity strategist at ABN Amro Bank NV in Amsterdam. "With the sentiment in global financial markets being more negative, the challenges on the economic and political front in Brazil are more in focus."
Temer, who officially took over Aug. 31, has vowed to jump start the economy, trim a budget deficit and make Brazil more attractive for investment.
Temer will face a key test this week as the Lower House is scheduled to vote on the case of former speaker Eduardo Cunha, who faces losing his seat amid allegations of corruption. Regardless of the outcome, the vote is likely to have implications for Temer's government. If Cunha isn't stripped of his political rights, the government could face difficulties in approving measures in Congress, while there's a risk of him dragging down Temer's allies with him if he loses the vote, according to O Globo.
Swap rates on the contract maturing in January 2018, a gauge of expectations for interest-rate moves, fell 0.03 percentage point to 12.55 percent.
— With assistance by Anna Edgerton, and Vinicius Andrade
Before it's here, it's on the Bloomberg Terminal.
LEARN MORE