Bond Selloff Extends Yet Aviva, Aberdeen See No Imminent Rout
By
Conditions not right for bonds to 'get destroyed': Aviva

Declines seem more like 'storm in a teacup': Aberdeen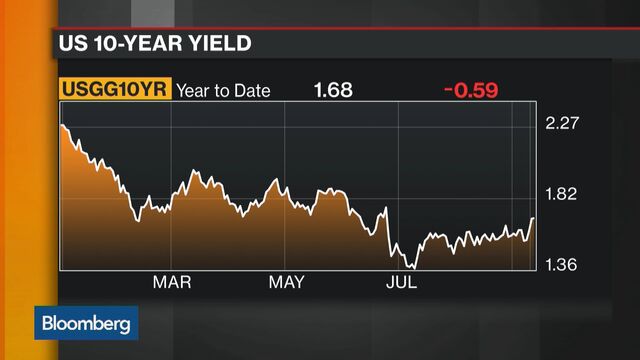 The plunge in euro-area government bonds that has driven German yields to their highest level since the U.K.'s Brexit vote is unlikely to escalate into a full-blown rout, according to Aviva Investors and Aberdeen Asset Management Plc.
German 10-year bonds fell for a third day Monday, pushing yields to their highest since June 24, the day results were announced from Britain's referendum to leave the European Union. Yields on their Italian counterparts increased for a third day as stock markets dropped across Europe.

The current slide in bonds is not likely to become entrenched as the fundamentals for valuation such as sluggish economic activity haven't changed and will likely keep central banks accommodative in the euro area, Britain and Japan, the investors said. Government debt from Europe to the U.S. and Japan tumbled last week on investor concern that central banks including the European Central Bank were reappraising the efficacy of further monetary stimulus to spur growth in their economies and stoke inflation.
"Growth is low and going to stay low and inflation is not really a problem," Charles Diebel, the London-based head of rates at Aviva, said Monday in a Bloomberg TV interview with Manus Cranny and Nejra Cehic. "That's not an environment where bonds get destroyed. It may be that their valuations are relatively rich and we're experiencing a correction, but we're not talking about the start of a huge bear market."
Germany's 10-year bund yield rose three basis points, or 0.03 percentage point, to 0.037 percent as of the 5 p.m. close in London, and earlier climbed to an 11-week high of 0.059 percent. The zero percent security due in August 2026 fell 0.269, or 2.69 euros per 1,000-euro ($1,123) face amount to 99.633. Yields surged about 13 basis points on Thursday and Friday last week, which was their biggest two-day increase since December.
Yields on Italy's 10-year securities rose three basis points to 1.28 percent, and earlier they increased to 1.31 percent, after jumping nine basis points on Friday.
Unchanged Fundamentals

"This is possibly one of the signs of getting to the end of effectiveness of monetary easing," said Luke Hickmore, an Edinburgh-based senior investment manager at Aberdeen, which oversees about $400 billion. "I am still in the camp that says growth is low, inflation is low. That fundamental hasn't really changed."
It is "really difficult for governments to switch on the fiscal stimulus in any large enough way so that it makes a big difference to inflation, so I think this is a storm in a teacup rather than a start of a new bund tantrum," Hickmore said, referring to a leap in German yields starting in April 2015 that helped set off a global selloff in debt.
The ECB, led by President Mario Draghi, maintained the status quo on interest rates on Sept. 8 and refrained from signaling any addition will come to its current stimulus program, disappointing traders who were bracing for a more dovish tone.
Yet, it isn't the case that "central banks are going into outright hawkish mode," said Mark Dowding, a partner at BlueBay Asset Management LLP in London, which oversees about $55 billion. "It's not as if the global economy is firing on all cylinders." The slide in bonds will "look like more of a shorter-term speed bump in the market than a definitive moment where we have witnessed a big turn in bond-market direction," he said.
Brainard Signal
Federal Reserve policy maker Lael Brainard, seen as a leading opponent of rate increases, will speak Monday in Chicago. A shift to a hawkish stance by her could help boost wagers of a rate increase in the U.S.
Boston Fed President Eric Rosengren triggered bets on an interest-rate hike on Friday, saying there was a risk the U.S. economy could overheat if policy makers waited too long before tightening.
Treasury 10-year note yields were little changed at 1.69 percent and U.K. 10-year gilt yields were stable at 0.87 percent, after a 10 basis-point jump on Friday.