BOE Deputy Governor Shafik Resigns to Become Director of LSE
By
MPC member will remain in post until the end of February 2017

Shafik's term of office was due to last until July 2019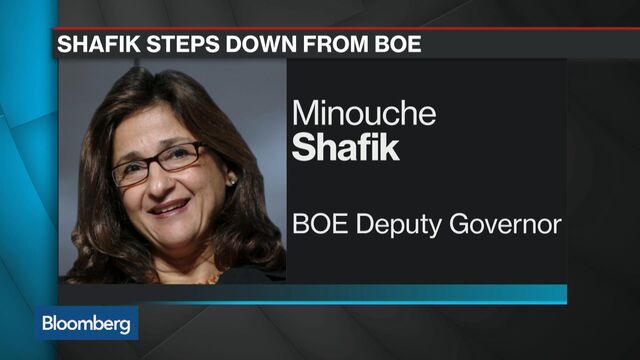 Bank of England Deputy Governor Minouche Shafik resigned less than halfway through her term after being appointed to lead one of the U.K.'s most high-profile universities.
The departure of the 54-year-old chief of markets and banking will worsen the gender imbalance at the BOE's top tier that Mark Carney bemoaned when he took over as governor in 2013. It also means the central bank loses a former International Monetary Fund official who presides over a wide-ranging remit covering the growing balance sheet and representation in international forums. Those considerations -- as Brexit shakes up Britain's relationship with the rest of the world -- may influence the U.K. government's thinking in its search for a successor.
Shafik, the BOE's most senior female policy maker, joined in August 2014 and her term was due to run until July 2019. The appointment was a new deputy governor position created as part of an overhaul of the central bank by Carney. She will leave at the end of February 2017 to become director of the London School of Economics, her alma mater, the central bank said on Monday, taking up the new role in September 2017.

When Shafik joined the Monetary Policy Committee, she became the first woman on the rate-setting panel in four years after Kate Barker left in 2010. Her exit will leave the nine-member body with just one woman, Kristin Forbes.
"We will say farewell to Minouche with gratitude and regret," Carney said in a statement. "She helped drive vital reforms on the domestic and international stages."
The BOE said the U.K. Treasury will begin recruiting for a successor in "due course." The newest member of the MPC, former Citigroup Inc. economist Michael Saunders, will vote in his first policy meeting this week, having just succeeded Martin Weale.
Shafik has voted in line with the governor at every monetary-policy meeting since joining the MPC, including backing last month's stimulus package in response to the uncertainty created by the U.K.'s decision to leave the European Union. During her appointment hearing with lawmakers, she described herself as neither a hawk nor a dove -- the traditional shorthand for policy makers' leanings -- but an "owl" who studies the data.
Fair Markets
She oversaw a review of the BOE's market-intelligence operations -- after the central bank was dragged into a foreign-exchange benchmark manipulation scandal -- and an overhaul of liquidity operations. She is also, along with Carney and Deputy Governor for Financial Stability Jon Cunliffe, one of only three officials who sit on all three of the BOE's policy committees: the MPC, the Financial Policy Committee and the Prudential Regulation Authority Board. With her wide-ranging remit, many of her speeches focused on operational matters, market misconduct and banker behavior.
The announcement of her departure comes amid substantial change and uncertainty in the economy in the wake of June's Brexit vote, notably in the financial sector.
"International experience is going to be a key part of that job because the U.K. has a very large global financial center," said Rob Wood, an economist at Bank of America-Merrill Lynch in London and a former BOE official. "I don't know what kind of CV they're going to ask for from her replacement but it's obviously going to have to be a very good one."
The LSE said on Monday that Shafik is the first woman appointed to lead the university on a permanent basis. She isn't the first BOE policy maker to take over though -- Howard Davies, another former deputy governor, ran the institution for eight years until 2011.
Her appointment ends half a year of suspense on who would replace Craig Calhoun, the former New York University professor who resigned as the LSE's director in February to become president of the Berggruen Institute, a Los-Angeles-based research organization.
Professor Julia Black will continue to lead the university on an interim basis until Shafik takes up her new post.
"This is an exciting time for the school," said Alan Elias, LSE's acting chair. "We are delighted to be welcoming an outstanding leader with such an exemplary track record and with a global standing to match LSE's own international reach and reputation."
— With assistance by Jill Ward
Before it's here, it's on the Bloomberg Terminal.
LEARN MORE