Aussie Hasn't Fallen as Far as Expected Post-Boom, Kent Says
By
RBA Assistant Governor comments on legacy of commodity rout

Says inflation target 'well understood', nominal GDP less so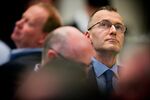 The Australian dollar failed to drop by as much as the central bank expected in response to weaker commodity prices and a record-low interest rate, Assistant Governor Christopher Kent said, citing very easy and unconventional policies elsewhere in the world.
"The exchange rate -- the real trade weighted index, or real TWI -- has not depreciated by quite as much as might have been expected in response to the actual decline in the terms of trade and the reductions in domestic interest rates," Kent said in a speech at a Bloomberg business breakfast in Sydney. "At least in part, this reflects lower-than-expected global growth and inflation, which has led to a prolonged period of very low interest rates and unconventional monetary policies in the major economies."
In a speech that ranged across the economy since the peak of the resource bonanza in 2012, Kent said Australia is about three-quarters of the way through the unwinding of mining investment, that the terms of trade -- or export prices relative to import prices -- are predicted to remain around current levels and developments in China are "a key source of uncertainty" for the economy.
To watch excerpts from Kent's speech, click here
The Aussie dollar has dropped 25 percent in the four years since the peak of the resource investment boom, while the cash rate was slashed to 1.5 percent from 4.75 percent as the Reserve Bank of Australia sought to spur service industries like education and tourism. The switch in growth drivers also saw a shift in their geographic location from the north and west of the nation to the south and east. Concurrently, China is also attempting a transition from heavy investment to consumption.
"Developments in China are likely to continue to have an important influence on commodity prices, given China's role as both a major producer and consumer of many commodities," Kent said. "For this reason the outlook for the Chinese economy is a key source of uncertainty for the Australian economy."
'Marked Change'
Kent said if commodity prices were to stabilize "that would be a marked change from recent years" and together with the end of the fall in mining investment "suggests that there is a reasonable prospect of sustaining growth in economic activity, which would support a further gradual decline in the unemployment rate."
Australia's unemployment rate has fallen to 5.7 percent from 6.3 percent a year earlier and annual economic growth has been at 3 percent or above for the past two quarters. Yet record-low wage gains has led to anemic inflation and many economists say there is a lot more slack in the labor market than the headline rate suggests. The RBA, at least, has cut the benchmark twice this year.
"It is important to note that low growth in labor costs has, in many respects, helped the economy adjust to the lower terms of trade," Kent said. "In addition to the nominal exchange rate depreciation, low growth in labor costs is helping to improve Australia's international competitiveness and has encouraged more employment growth than would otherwise have occurred."
Well Understood
In response to questions following Tuesday's speech, Kent stood by the central bank's commitment to inflation targeting, saying it had achieved its goals "by any reasonable measure" and had ample flexibility. It was also well understood by both financial markets and the public, he said.
Referring to recent discussions by local commentators about replacing the inflation target with a nominal GDP measure, he said while the alternative concept sounded "quite good" in theory, it wasn't as easy to understand and didn't try to anchor inflation expectations.
On whether financial imbalances may be a better guide to sustainability of economic growth than inflation, Kent said the RBA already paid close attention to such indicators.
"If you look at the sorts of things we've been saying and the sorts of things we've been doing for a long time now, the bank and the board do pay attention to financial sustainability, financial stability concerns."
Before it's here, it's on the Bloomberg Terminal.
LEARN MORE