Volkswagen Seeks to Move Past Scandal
By and
VW plans to return to debt markets this calendar year, he says

Carmaker has 'pretty good handle' on scandal's financial risk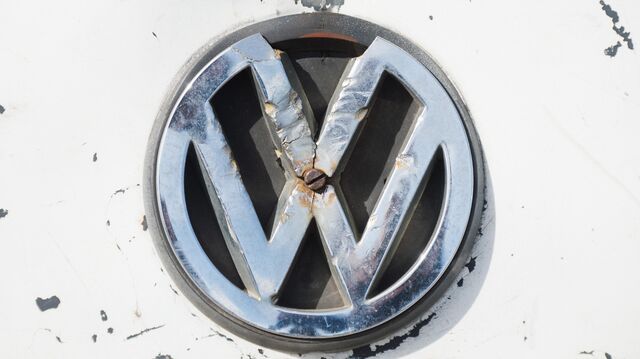 Volkswagen AG, which has been largely absent from bond markets since its emissions-cheating scandal broke a year ago, plans to return soon in a sign that creditors may be ready to put their concerns about the carmaker's financial health behind them.
While the company's financing is not back to pre-crisis terms, "we still have a plan to come back to the market during this calendar year," Volkswagen Chief Financial Officer Frank Witter said in an interview with Bloomberg Television.
VW, traditionally the biggest corporate issuer of euro notes, has been effectively shut out of the market in the wake of the diesel scandal that pummeled its stock price and credit rating. Witter assumed his position in the immediate aftermath of the revelations as the Wolfsburg, Germany-based company reshuffled top management. In April, Volkswagen said "the window should be open" for bond sales this year.

The automaker in November put bond financing on hold, saying it needed time to update the documentation required to sell bonds and other financing instruments to reflect potential fines and penalties. While VW hasn't issued euro-denominated bonds in the past year, the carmaker has placed asset-backed securities, commercial paper and sold a yuan-denominated bond through a Chinese arm. The company signed a 20 billion-euro bridge loan with 13 banks in December, creating a financial cushion as it dealt with the fallout from the scandal.
It remains to be seen whether the 18 billion euros ($20 billion) that the company has earmarked to cover the costs of the scandal will suffice. Volkswagen has agreed to lawsuit settlements with U.S. federal regulators, states and car owners, and is also also the target of potentially costly criminal probes in the U.S., Germany and South Korea, among others.
"Nobody can guarantee that the 18 billion will fully be it, but we know much much more about the risks we're exposed to than we knew in September, October or even December 31 when we closed the books for 2015," Witter said. "We have a pretty good handle on it."
S&P Global Ratings, Moody's Investors Service and Fitch Ratings have negative outlooks on Volkswagen's debt. S&P cut the company's credit rating twice in the wake of the scandal.
While the worst of the scandal is behind it, Volkswagen still has a long way to go to repair the damage to its reputation.
"We're making progress but it certainly has to be stated that this unfortunate diesel issue should have never happened in the name of Volkswagen -- we are very regretful,"' he said. "We are making progress but we are far from fully overcoming the crisis."
Before it's here, it's on the Bloomberg Terminal.
LEARN MORE