Ukraine Chases Cuts in 'Unrealistic' Budget to Meet IMF Pact
by and
Nation faces 'huge fiscal risks,' finance minister says

Danylyuk is targeting two IMF aid tranches by end of 2016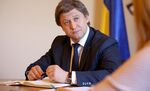 Ukraine's government needs to cut spending to steer the 2016 budget back to the goal agreed on with international lenders, as delayed privatization and a weak economic recovery prevent revenue from keeping pace with costs, Finance Minister Oleksandr Danylyuk said.
The eastern European nation is seeking to restart the flow of funds from its bailout by securing two aid tranches from the International Monetary Fund, 600 million euros ($673 million) from the European Union and $1 billion in U.S. loan guarantees by the end of the year, he said.
"We had an unrealistic budget for 2016," Danylyuk, who replaced Natalie Jaresko as finance chief in April, said Saturday in an interview in London. He declined to specify what areas may be targeted for budget cuts. "There are huge fiscal risks and I'm working every day to reduce them."
Still recovering from the strains of revolution and a separatist war, Ukraine has struggled to keep its aid program on track, with delayed reforms and a lack of progress in tackling corruption freezing IMF aid payments. The country of more than 40 million people is seeking to overhaul industries that have seen little modernization in the 25 years since the fall of communism while also trying to maintain a recovery from recession. Gross domestic product will expand by 1 percent this year, the Economy Ministry predicts.
The government is also trying to keep its budget deficit from surpassing the target of 3.7 percent of GDP agreed on with the IMF last year. The gap widened to almost 50 billion hryvnia ($1.9 billion) in the first seven months of 2016 from 2.3 billion hryvnia a year earlier, according to the Finance Ministry. While revenue rose an annual 4.6 percent in January-July, spending jumped 21 percent.
The 2017 budget will be submitted to parliament this week, Prime Minister Volodymyr Hroisman said Monday on Facebook.

The hryvnia has lost 6.9 percent against the dollar since the start of August following a flare-up in tensions between Ukraine and Russia, prompting the central bank to sell reserves. The government sees the hryvnia averaging 27.2 against the greenback next year, Danylyuk said. It closed Friday at 26.7845.
Danylyuk is seeking to speed up the sales of state assets to attract investment. Privatization is "a must, strategically," he said, adding that Ukraine wants to sell ammonia maker Odeskyi Pryportovyi Zavod in November after a July attempt failed when bidders spurned what he called an "unrealistic" price set by the government. The divestment program, in the works since 2014, has yet to complete a single transaction.
Click here for an explainer on Ukraine's economic struggles.
Because of the delays, revenue from state-asset sales will miss this year's target of 17 billion hryvnia. The government will use that figure as the 2017 goal, Danylyuk said.
The spending plan assumes a deficit of 3 percent of GDP next year. It projects inflation of 8.1 percent, compared with 12 percent seen for this year, and 3 percent economic growth, from 1.5 percent in 2016, he said. The government plans to narrow the fiscal shortfall to 2 percent of GDP by 2019.
Ukraine is facing "not so much economic risks, but there are still some risks to security," Danylyuk said, referring to the continued fighting between government troops and pro-Moscow rebels in the regions bordering Russia. "Any action in the east sends a very bad signal to investors."
"To restore the relationship with the IMF, to renew external financing -- that was a priority for me and I can put a tick mark there," he said. "The next priority is to put in a foundation for irreversible reforms for next year. That's what takes up all of my time."
Before it's here, it's on the Bloomberg Terminal.
LEARN MORE