Tsipras Repeats Call for Greek Debt Relief, Seeks Bonds in QE
by
Greek prime minister vows to complete pending bailout review

Tsipras says he will fight for lower budget targets after 2018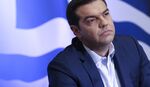 Prime Minister Alexis Tsipras said Greece will only be able to lure investors once a quarrel between creditors over how to lower the country's debt burden is resolved, which he said should lead the European Central Bank to include Greek government bonds in its asset purchase program.
"What is currently causing a delay in regaining the trust of markets and investors isn't debt decisions in themselves, as what the Eurogroup decided was in the right direction, but the constant quarrel and clash between the International Monetary Fund and European institutions," Tsipras said Sunday at the Thessaloniki International Fair. Greeks "deserve a fair debt arrangement, and this fair arrangement can't be conditioned on elections taking place in other European countries," he said, referring to polls set for next year in Germany.
Tsipras used a 2 1/2-hour news conference to dispel doubts about Greece's future growth prospects in the aftermath of renewed warnings from euro area peers on delayed economic reforms.
Debt Dispute

"After seven years of such a steep contraction, we will see what economists call a rebound, and growth will be substantial in 2017," the 42-year-old leader said. "The question is whether this growth will last, and this will depend on the decisions which will be taken by the end of this year," he said, adding that Greece would already be eligible for the ECB's Quantitative Easing program if it wasn't for the dispute between Germany and the IMF on Greek debt sustainability.
ECB President Mario Draghi has said the Frankfurt-based central bank will buy junk-rated Greek government notes "at a later stage, taking into account the progress made in the analysis and reinforcement of Greece's debt sustainability." Greece's potential inclusion in ECB's asset purchase program could help lower borrowing costs, and ease the country's eventual return to bond markets.
The debt relief measures currently under discussion between Greece and its creditors don't include any nominal haircut, just financial engineering to ease repayment schedule. 
Plunging Popularity
Tsipras charged into power two years ago after promising an 11.5 billion euros ($12.9 billion) economic stimulus, which included tax breaks, as well as increases in pensions, minimum wage, and the tax free threshold. His popularity is now plunging, as capital controls he was forced to impose last year exacerbate the strain from successive rounds of austerity measures. A Kapa Research poll published in the To Vima newspaper on Sunday shows his Syriza party trailing main opposition New Democracy by 5.5 percentage points, including those who said they didn't know.
Elections aren't scheduled in Greece before 2019, and Tsipras again dismissed calls for a snap vote. "Greece needs stability, not snap elections," he said. "From now on, every bailout review will be easier than the previous one."
In an effort to drum up support, Tsipras promised tax cuts in the next two years, as he vowed to negotiate less ambitious fiscal targets after 2018. His pledge could face resistance from European creditors, as Greece has committed to maintain a budget surplus before interest payments equal to 3.5 percent of gross domestic product "over the medium term."
For the short term, Tsipras promised Greece will promptly meet the milestones still pending from the latest review of the its fiscal adjustment program. He also said his government plans to speed up preparations for the next review, even as he vowed to resist calls for opening up the labor market beyond what's seen as acceptable in the rest of the European Union.
A market-value weighted index of Greek government bonds has delivered the worst returns out of all European sovereigns tracked by Bloomberg over the past three months. The Athens Stock Exchange trails only Nigeria and Venezuela in the worst performing major equity indexes in the three months through Friday.
Before it's here, it's on the Bloomberg Terminal.
LEARN MORE