Powerful Syrian Rebel Group Says It Won't Respect Cease-Fire
By
Russia, U.S. plan truce to take effect from sundown Monday

Ahrar Al Sham says cessation of hostilities will help Assad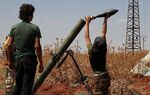 A powerful Syrian rebel group allied to al-Qaeda's wing in Syria said it won't respect a cease-fire due to start Monday, putting in jeopardy a Russian and U.S. plan meant to ease the country's humanitarian crisis and pave the way to peace talks.
Ahrar Al Sham "is not bound by the truce and won't abide by it" because that would benefit the forces of President Bashar al-Assad, spokesman Abu Yousef Al-Muhajir said in comments posted Sunday on an opposition website, Enab Baladi.
The Islamist rebel group signed on to an earlier cease-fire brokered by Russia and the U.S. in February, though it didn't take part in peace negotiations in Geneva that collapsed under resurgent violence. The latest U.S.-Russian agreement, unveiled Friday after marathon talks in the Swiss city, reflects only those two countries' intentions, the rebel official said.
The Syrian government said it would accept the truce agreement and cease hostilities in the besieged northern city of Aleppo for "humanitarian reasons," the state-run SANA news service said on Saturday. That didn't ease the violence, however, and that same day, warplanes bombed rebel-held areas in Aleppo and elsewhere, killing more than 100 people, according to the U.K.-based Syrian Observatory for Human Rights, which monitors the war through activists on the ground.
Under the deal, if the cease-fire holds for seven days, Russia and the U.S. will coordinate military strikes against the al-Qaeda wing in Syria, Jabhat Fatah al-Sham, formerly known as the Nusra Front. The U.S. also committed to severing the ties between the al-Qaeda fighters and American-backed rebels fighting Assad.
The accord is the latest effort by the U.S. and Russia to halt violence that has killed more than 280,000 people over 5 1/2 years. The February cease-fire began falling apart within weeks, and in the months since, Russia has stepped up its support for Assad by sending its jets to bomb Aleppo and other areas controlled by rebels.