North Korea Seen Ready to Conduct New Nuclear Test at 'Any Time'
by
South Korean defense ministry offical tells reporters in Seoul

'High' probability next detonation could come this year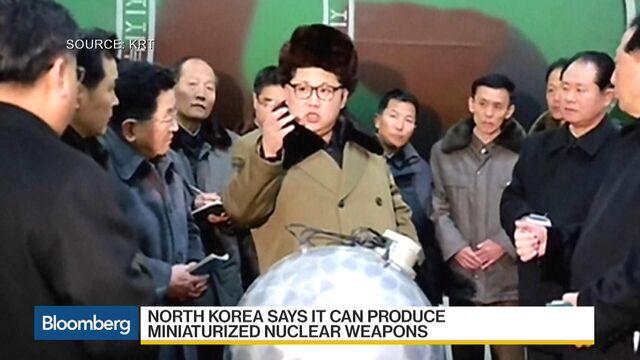 North Korea is ready to conduct additional nuclear tests at "any time," South Korea said Monday, raising the prospect it will detonate its sixth device this year.
The isolated nation may conduct the test in the yet unused No. 3 tunnel at its Punggye-ri test site, South Korean Defense Ministry spokesman Moon Sang Gyun told reporters at a briefing in Seoul. Its first test in 2006 was conducted in No. 1 tunnel, with the next four -- including Friday's fifth blast -- in No. 2, Moon said.
Work at No. 3 tunnel at Punggye-ri test site appears complete, suggesting Pyongyang could conduct a test at any time, Yonhap reported earlier, citing unidentified officials. The news agency said South Korea and U.S. intelligence officials believed there was a "high" probability the reclusive regime's next detonation could come before the end of the year.
North Korea's latest test drew condemnation from the U.S., Japan and South Korea. The blast came just days after Kim Jong Un's regime launched three ballistic missiles off its east coast, at least one of which flew into Japan's air defense zone. Nuclear and ballistic missile tests are banned by the United Nations.
For more on North Korea's nuclear ambitions, click here
Japanese Prime Minister Shinzo Abe said Monday the level of threat from North Korea has changed, and that Tokyo is considering unilateral sanctions against Pyongyang. Meanwhile, Kyodo News reported that North Korea's foreign minister arrived in Beijing on Monday. China is seen as the one nation that can stop North Korea's nuclear ambitions.

Friday's test may have shown North Korea overcoming what had been seen as hurdles to the advancement of its weapons capabilities. The official Korean Central News Agency said the detonation showed the regime could now produce miniaturized nuclear arms and attach atomic weapons to rockets.
North Korea's state-run media on Sunday released a statement from the foreign ministry saying the country would continue to strengthen its nuclear weapons ability.
South Korean Defense Ministry spokesman Moon also said that Seoul's "Korea Massive Punishment & Retaliation" plan stipulates that it will target Pyongyang's war leaders for punishment should it threaten the South with its nuclear weapons.
South Korea agrees with Japan that the two countries need to sign a pact on bilateral military information protection, but is not yet ready due to "various issues" between the two countries, Moon said.
Before it's here, it's on the Bloomberg Terminal.
LEARN MORE