Merkel Aide Hopeful Coalition Will End Bickering Over Refugees
By
Chancellor's chief of staff says German coalition must unite

Bavarian leader says only refugee limit will end 'loser mode'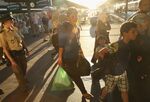 A senior aide to German Chancellor Angela Merkel said he's "optimistic" that her government will resolve a dispute over limiting the number of asylum seekers that's split her coalition.
Peter Altmaier, Merkel's chief of staff at the chancellery in Berlin, said voters of her Christian Democrats and the Bavaria-based Christian Social Union expect the two parties -- allies since after World War II -- to show unity. The CSU has doubled down on its demand for a refugee quota since Merkel's party was defeated by the anti-immigration Alternative for Germany in a state election a week ago. Merkel has declined to impose a cap.
"The CSU has every right to take a position and it's the joint duty of CDU and CSU to ultimately overcome what divides them," Altmaier said in a nationally televised interview on ARD television Sunday. "Therefore, I'm very optimistic that in the weeks ahead we will not only narrow our differences but act jointly on all important questions."
How to stem the flow of asylum seekers to Europe's biggest economy is Merkel's biggest challenge as she considers whether to seek a fourth term in elections in a year's time. Bavarian premier Horst Seehofer and the Social Democrats, Merkel's junior coalition partner, are criticizing her refugee policy as all established parties face an unprecedented backlash by the Alternative for Germany, or AfD.
Merkel, Seehofer and Social Democrat leader Sigmar Gabriel set aside the refugee issue at a closed-door meeting in Berlin on Sunday while agreeing to seek solutions to other disputes, including a possible revision of Germany's estate tax, Deutsche Presse-Agentur reported, citing officials it didn't identify. The next coalition summit was set for early October, DPA said.
CDU and CSU will remain in "loser mode" unless "we give a clear answer on how we want to limit immigration," Seehofer was quoted as saying in an interview with Sunday newspaper Bild am Sonntag.