Israel's Tene Said to Buy Stake in Caesarstone for $43.5 Million
By and
Fund said to pay $43.50 per share to Kibbutz Sdot Yam

Fund said to get two seats on board, option for more shares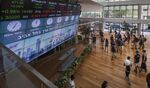 Tene Investment Funds Ltd. has agreed to buy 1 million shares of Caesarstone Ltd. from Kibbutz Sdot Yam for $43.5 million, with an option to buy 2 million more shares within five years, according to a person involved in the deal.
The purchase gives Tene almost 3 percent of Caesarstone's shares. As part of the agreement, the Israeli private equity fund also will get voting control of the kibbutz's remaining shares and two seats on Caesarstone's board, the person said. 
Tene had sold an earlier holding in Caesarstone in 2013. Ariel Halperin, Tene's senior managing partner, said he couldn't comment on the terms of the deal.
"The Tene team is very happy to be back at Caesarstone," Halperin said by telephone Sunday. "We are looking forward to working together with the management, the board and the other shareholders to improve the performance of the company and to achieve significant growth in the future."
Kibbutz Sdot Yam is Caesarstone's largest shareholder, with 32.51 percent of the shares.
Attempts to reach Sdot Yam and Caesarstone outside of normal business hours weren't successful.
Shares of Caesarstone, which makes quartz countertops, declined 6 percent Friday to $35.73 and are down 18 percent on the year.
Before it's here, it's on the Bloomberg Terminal.
LEARN MORE