Croat Conservatives Claim Election Victory, Vow to Form Cabinet
By
HDZ beats Social Democrats with 61 of parliament's 151 seats

Social Democrats reject grand coalition, giving Bridge an edge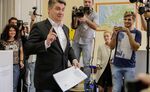 The conservative Croatian Democratic Union moved toward forming a government after a surprise election victory, potentially opening the way to a stable cabinet after political deadlock stalled efforts to overhaul the economy in the European Union's youngest member.
The Democratic Union, known as HDZ, won 61 of parliament's 151 seats in the snap general ballot, Nova TV said Monday, citing calculations made from the Electoral Commission's percentage count. Former Prime Minister Zoran Milanovic's Social Democrats, who led opinion polls before the ballot, ruled out joining a government after winning 54 seats. The Bridge party, whose previous coalition with HDZ collapsed in June, got 13.
"It looks logical that the HDZ will probably form a new government with Bridge," Timothy Ash, chief strategist at Nomura International Plc, said by phone from London. "This is probably the best outcome that could happen in this election. And if HDZ's Zdravko Maric keeps his job as finance minister, the markets would love that."
HDZ will try to unblock a stalemate in which neither it nor the Social Democrats, the two parties that have dominated Croatian politics since its violent break with the former Yugoslavia in 1991, were able to muster a stable majority. The conservatives must regain the support of Bridge, a thorny task since the implosion of their previous cabinet after almost six months in power left more than 60 economic reform laws stuck in parliament.
The previous government's collapse derailed a plan to overhaul the economy after it shrank 12 percent in a 2008-2014 downturn. Annual economic growth of 2.8 percent in the second quarter has helped the Adriatic state regain some ground, and HDZ, led by veteran diplomat Andrej Plenkovic, has pledged to cut income and value added taxes and reduce public debt that has reached 87 percent of gross domestic product.

The next government will also have to address an infringement procedure started by the EU over a law passed by Milanovic's government in 2015 easing payments for Croatians who borrowed in Swiss francs after that currency appreciated. The measure is seen costing commercial banks almost 1 billion euros ($1.1 billion). The yield on Croatia's euro bonds maturing in 2025 rose three basis points to 2.808 percent at 6:37 p.m. in Zagreb, according to data compiled by Bloomberg. 
While radicals are making gains across Europe, no extremist groups among the eight parties who entered parliament, according to the Electoral Commission. President Kolinda Grabar Kitarovic's congratulated HDZ, her former party, as the winner of the election and said she'll meet with political leaders once results are finalized. Commission head Branko Hrvatin said that would probably happen on Sept. 19.
HDZ's unexpected victory may have been due to turnout, which fell to 53 percent of voters, compared with 61 percent in the November 2015 elections. Plenkovic said he'll lead negotiations with Bridge and smaller factions, including minorities who are allotted eight seats in the chamber. Talks with the Social Democrats aren't planned, and his party was "entitled" to the post of prime minister, he said.
"The Croatian Democratic Union is the convincing winner in this election," Plenkovic, 46, told reporters in Zagreb. "Coalition talks should be based on our program."
Bridge Ultimatum
Bridge made it clear that it won't be an easy partner, with its leader, 36-year-old psychiatrist Bozo Petrov, giving the big parties a five-day deadline to meet its demands or forfeit its support. Petrov has pledged to fight waste and corruption and demanded more oversight over Croatia's monetary authority, which the European Central Bank said could undermine its independence. The party, which won support from voters disillusioned with dominant political forces, made a similar ultimatum following the November 2015 election by demanding a three-party government before backing down to rule only with HDZ.
"Those who accept our conditions can expect our support," Petrov told supporters. "We don't have to love each other."
Speaking to reporters on Monday, Milanovic said that any coalition his party could join would be "unstable." He said the idea of a coalition with HDZ was "out of the question."
If HDZ and Bridge cooperate, they can try to continue their cabinet's efforts to heed EU recommendations by reducing the budget deficit, which Maric has said will be lower than the planned 2.6 percent of GDP this year. They may also work to restore Croatia's credit rating to investment grade after it was cut to junk in 2012, according to Zrinka Zivkovic Matijevic, chief economist at Raiffeisenbank Austria d.d./Croatia.
"From the markets' perspective, this seems to be the most friendly outcome," she said.