China Swats 'A Few Flies' to Temper Electric-Car Maker Excesses
Bloomberg News
Subsidy crackdown is latest step to recalibrate EV industry

Government guarding against shortcuts to 5 million sales goal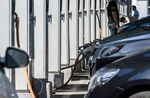 China's go-go era of pouring billions in subsidies that turned its electric vehicle market into the world's biggest may be coming to an end after the government cracked down on funding cheats and pledged to wean the industry off handouts.
In slapping five companies with fines for scamming the state of about $150 million in subsidies, Chinese policy makers were making the latest in a series of moves to put checks on the torrid growth in the nation's EV industry. The crackdown, coming on the heels of higher technological requirements and a limit on licenses to manufacture EVs, shows the government is guarding against excesses that may derail its goal to get 5 million EVs on the roads by 2020.
"If you open the window to enjoy the views outside, you have to be prepared for a few flies getting in," Zhou Jincheng, an auto industry analyst at researcher Fourin Inc. in Nagoya, Japan, said by phone. "The crackdown will help to bring the industry back to a healthier track. Subsidies will be better directed and help companies with real potential."
For more on China's billionaires racing to bring EVs to market, click here
In offering generous state support, China's government inadvertently encouraged a gold rush-like mentality to bring EVs to market. In some cases, the unintended consequence was the emergence of companies that wanted a shot at the prize, regardless of whether they had what it took to produce vehicles for actual buyers.
The government last week said it would revoke a production license for Gemsea Coach, a Suzhou, China-based bus maker, and order the company to pay back all of the 261.6 million yuan ($39 million) in financial assistance illegally obtained by submitting faked documents for 1,131 vehicle sales. The government also is clawing back financial aid from four other companies -- Chery Wanda Bus, Shenzhen Wuzhoulong Motors Group, Higer Bus Co. and Shaolin Bus -- and fining the manufacturers half the amount of subsidies they received.

The government's clampdown comes as an onslaught of startups, some backed by titans including Alibaba Group Holding Ltd.'s Jack Ma and Tencent Holdings Ltd.'s Ma Huateng, seek to join in on the EV boom. Policy makers, on the other hand, are raising concerns about spawning an industry plagued by me-too companies lacking the technology and appeal needed to compete on a global stage.
"It's come to a time to have some necessary modifications on policy to ward off companies with dangerous or shoddy products," said Wang Binggang, who leads a group commissioned by the Ministry of Science and Technology that aims to make China a lead in electric vehicles. "Very few companies had the confidence to make NEVs back in 2009, so it was important to offer the subsidies. Now, everyone is mobilized."
In addition to imposing stricter technology standards, the government is considering limiting the number of startup EV makers to a maximum of 10, a curb that would be aimed at weeding out the weak. As many as 90 percent of startups currently developing EV platforms won't meet government requirements in two years, a newspaper run by the State Council reported last month.
China is also considering adopting a credit system similar to California's, eventually transitioning from its subsidy-driven approach, which has been criticized for coddling the wasteful spending habits of some automakers.
"The changes in NEV policies so far can only treat the symptom rather than the underlying problem," Jiang Libiao, an associate professor at the South China University of Technology in Guangzhou, said by phone. As long as they're allowed, automakers will spend the money they get from subsidies on capacity expansion rather than R&D, he said.
China may not be done cracking down. While the finance ministry released the list of five companies last week that had committed wrongdoing, there were various other policy breaches by companies not yet named, Xu Yanhua, a deputy secretary general at the China Association of Automobile Manufacturers, said Friday in Beijing.
"There must be more than five companies that violated the rules," said Wang, who leads the National 863 Energy-Saving and New-Energy Vehicle Project. "You will find local governments make more detailed follow-up announcements."
— With assistance by Yan Zhang, Tian Ying, and Jie Ma
Before it's here, it's on the Bloomberg Terminal.
LEARN MORE