Mayor's Discipline Probe Shakes Up China's Political Chessboard
By
Tianjin boss investigated over unspecified party violations

Uncertainty over key post as Xi lays ground for reshuffle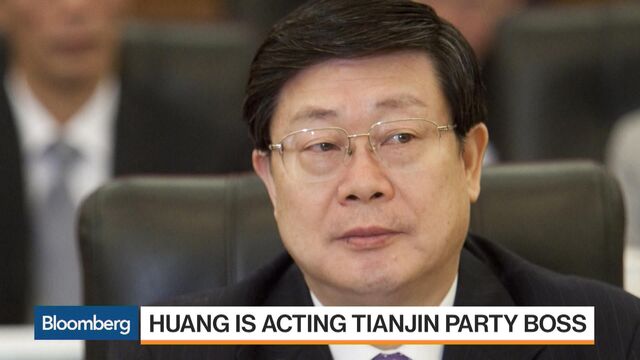 The investigation of the top leader in China's northern port of Tianjin comes amid a nationwide reshuffle of provincial leadership posts and could add uncertainty to the Chinese Communist Party's mid-term power transfer next year.
Mayor and acting party chief Huang Xingguo is being probed for "serious disciplinary violations," the top anti-graft agency said Saturday, using a euphemism for corruption. The Central Commission for Discipline Inspection statement provided no details about the nature of the allegations.
The move could have broader implications since past leaders of Tianjin -- less than an hour's train ride from Beijing and one of four centrally administered municipalities -- have held seats on the party's elite 25-member Politburo. The post was already among the most closely watched as President Xi Jinping reassigns provincial posts ahead the party congress in 2017.
As many as 11 members of the Politburo -- including five of the seven on its supreme Standing Committee -- are expected to retire at the twice-a-decade congress. A party plenary session in Beijing next month is expected to help lay the groundwork for that event.
"Tianjin is an important battle ground and the position of its party chief is directly decided by the central leadership," said Qiao Mu, a professor at Beijing Foreign Studies University and a political commentator. Huang's case pointed to jostling going on before the party congress, Qiao said.
Interim Leader
Party officials have usually been detained when disciplinary investigations are announced and Huang couldn't be reached for comment.
Huang's unusually long 20-month stint as interim Tianjin leader took in the massive warehouse fire and chemical explosions in August last year that killed at least 165 people and caused almost $1 billion in economic losses. He retained his posts even as scores of local government officials and port executives were punished for allowing the large stockpile of hazardous chemicals so close to a residential area, in violation of safety rules.
Huang's career overlapped with at least three Standing Committee members, including Xi. Huang, 61, spent more than three decades in the eastern province of Zhejiang, where he worked under Zhang Dejiang, who's now chairman of the National People's Congress and the party's No. 3 leader.
'Protective Umbrella'
Huang was party chief of the port city of Ningbo in 2002, when Xi began a five-year stint in the Zhejiang leadership, first as governor and then party secretary. After being sent to Tianjin in 2003, Huang worked under Vice Premier Zhang Gaoli, who was municipal party chief until ascending to the party's No. 7 position in 2012.
"Huang didn't lose his title in the aftermath of the Tianjin explosion, which showed there was some sort of 'protective umbrella' covering him," said Zhang Lifan, a Beijing-based historian and political commentator. "It's hard to say at this moment whether his case was too severe to paper over, or whether Xi wanted to use it to show that he's ready to punish his own people if justice demands it."
Had Huang formally assumed the top job in Tianjin, he would've been expected to secure a seat on the Politburo. Instead, he become the 10th Central Committee member investigated under Xi and the most senior official probed since ex-Hebei provincial party secretary Zhou Benshun was detained in July 2015.
Huang last appeared in public on Friday, when he visited a school and met with a delegation from Taiwan's Kuomintang opposition, according to the official Tianjin Daily. The city now lacks a party secretary, mayor and public security chief, with the last occupant of the latter position detained in July 2014. So far, Xi's anti-graft drive has ensnared three top Tianjin officials, including a deputy mayor placed under investigation last month.
— With assistance by Winnie Zhu
Before it's here, it's on the Bloomberg Terminal.
LEARN MORE