China, Housing Leave Aussie Banks Losing Out to Canada
By , , and
Yields on Aussie banks' dollar debt higher than for Canadians

U.S. investors leery of risks from housing, China slowdown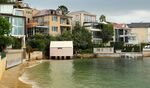 The tyranny of distance is weighing on Australia's banks in the U.S. bond market.
The yields that dollar debt buyers demand from Australia's largest lenders are higher than for Canadian banks with similar credit ratings, an analysis of more than 80 securities compiled by Bloomberg shows. While the two commodity-producing nations' banks are among the developed world's most profitable, risks from China and real estate loom large for investors looking at Australia from half a world away.
"When there's concerns about the Chinese market slowing down or the Chinese economy slowing down, it's viewed that sometimes the Australian banks may have more exposure to it than the U.S. or Canadian banks would have," said Matt Brill, a money manager at Atlanta-based Invesco Ltd. who holds U.S. currency debt from both Aussie and Canadian lenders. While the market has "less familiarity" with the Australian banks, Invesco sees them being able to handle that China exposure and Brill reckons their bonds "do trade fairly cheap" given the ratings they hold.
Whereas Canada's oil-focused economy is closely linked to the U.S. recovery, Australia's position as a producer of metals and coal means it's exposed to the slowdown in the world's biggest consumer of raw materials. Some investors have also voiced concern about housing in the South Pacific nation, where household debt is climbing and central bank stimulus has fueled a 35 percent gain in residential property prices over the past five years.
Yield Premium
Australian financial company bonds in the U.S. currency market yielded an average of 1.83 percent as of last week, about 5 basis points more than comparable Canadian businesses, according to Bloomberg Barclays Index data.
The following chart, based on various dollar-denominated bank issues of $1 billion or more, shows how notes from Canadian lenders tend to trade at a lower yield than their Aussie peers across the curve.

That yield differential also appears to have widened. The following chart shows the evolution of one such comparison between two November 2019 notes from Sydney-based Westpac Banking Corp. and Toronto-Dominion Bank. While the two rates were within a couple of basis points of each other at the time the TD bond was sold in 2014, there was last week a more significant premium for the Australian lender's paper, according to data compiled by Bloomberg.

Australia & New Zealand Banking Group Ltd., Commonwealth Bank of Australia, National Australia Bank Ltd. and Westpac each carry S&P Global Ratings scores of AA-, the fourth highest level, while their rankings at Moody's Investors Service are the equivalent of one step higher. Royal Bank of Canada, the North American nation's largest lender by market capitalization, has the same score as the Aussie banks at S&P, as does Toronto-Dominion. RBC is rated one level lower than them at Moody's, while TD is one notch higher.
Australia's difficulties in getting its government budget deficit under control could also weigh on the banks, which receive a boost from the sovereign's rare AAA credit rating. S&P in July lowered the outlook on the country's credit score to negative and made a similar change for the major lenders as well -- warning that fiscal policy gridlock could present a problem. Moody's also shifted its outlook on the country's banking system to negative last month.
Mortgage Reliance
Despite these headwinds, Australia's largest lenders and their Canadian peers are the most profitable among developed economy banks that have a market valuation of at least $30 billion, according to data compiled by Bloomberg. The four Aussie majors boasted an average return on equity -- a measure of how efficiently they invest shareholder funds -- of 15.2 percent in the 2015 fiscal year, close to the 15.6 percent mean of the five biggest Canadian firms.
A large part of Australian banks' return on equity comes from profitable mortgages. Those home loans, which make up about two-thirds of Australian banks' total advances, are a source of unease for some investors. Moody's Investors Service said in a report Monday that although delinquencies and defaults on prime mortgages were likely to increase, losses would remain low.
While the largest Canadian lenders are also subject to related concerns, mortgages make up about half their loan books and U.S. creditors draw a degree of comfort from their proximity.
'Perpetually Worried'
George Boubouras, chief investment officer at Melbourne-based Contango Asset Management and former CIO at UBS Group AG's Australia wealth management unit said investors in the U.S. have been "perpetually worried" about Australia's housing cycle since the American subprime mortgage bust.
"U.S. investors believe that the Aussie housing market is overvalued and they've been linking it to the Aussie banking sector," said Boubouras. "They've been quite vocal, with shorts accordingly linked to that."
Short interest on Aussie bank equities has risen in the past two years, data compiled by Bloomberg shows. Around 1.4 percent of CBA's outstanding shares were shorted by investors as of Sept. 8, rising from 0.7 percent two years ago. Bets against Westpac and ANZ and NAB have also climbed during the period.
"U.S. investors have taken a bearish view on the Australian housing market over the years," said Vivek Prabhu, head of fixed income at Perpetual Ltd. in Sydney. "They've shorted the banks or bought CDS protection on Australian banks - but they've been burnt by it every time."
— With assistance by Doug Alexander
Before it's here, it's on the Bloomberg Terminal.
LEARN MORE