Bridgewater Said to Get $22.5 Billion in New Money Since '15
By and
Most of the money went into new Optimal fund started in 2015

Firm opened Pure Alpha macro fund to new money this year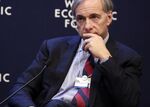 Bridgewater Associates LP, the world's largest hedge fund manager, has attracted $22.5 billion in client money since it started a new strategy early last year, according to a person familiar with the matter.
About three-quarters of the money went to the new fund -- a combination of the firm's two main strategies known as the Optimal Portfolio -- which was started in early 2015, said the person, who asked not to be identified because the information is private. The remainder went into the firm's main macro hedge fund, Pure Alpha, after Bridgewater opened that fund to select investors this year.
The inflows, first reported by the Financial Times, are a rare exception in an industry that's suffered recently from poor performance and client redemptions. Perry Capital, the 28-year-old hedge fund run by Goldman Sachs Group Inc. alumnus Richard Perry, has lost about 60 percent of its assets in less than a year after posting declines since 2014.
Bridgewater's Pure Alpha fund has also lost money this year, declining about 9 percent. But despite those losses, the fund was able to attract new money on the back of its strong long-term performance. Pure Alpha returned about 12 percent a year on average since 1991 in the Pure Alpha II class, which has 85 percent of the assets in the strategy.
Bridgewater, led by billionaire Ray Dalio, opened Pure Alpha to new money about five months ago after assets declined, said the person. The fund had been closed since 2009.
About half of Bridgewater's inflows -- $11.1 billion -- came this year, the person said.
The firm's other funds have performed better in 2016. All Weather, a passive fund, has returned 13 percent this year. The new strategy, a mix of All Weather and Pure Alpha, was flat.
Ryan Fitzgibbon, a spokeswoman for Westport, Connecticut-based Bridgewater, declined to comment.
Bridgewater has recently undergone top management changes. In March the firm tapped Jon Rubenstein, a co-creator of Apple's iPod, as co-chief executive officer.
Dalio earned about $1.4 billion last year, according to Institutional Investor's Alpha's 2016 Rich List. He's worth about $14.1 billion, ranking him the 64th richest person in the world, according to the Bloomberg Billionaires Index.
Before it's here, it's on the Bloomberg Terminal.
LEARN MORE