U.S. Stocks Rebound While Dollar Slips as Fed Rate Odds Retreat
by and
Fed governor strikes dovish tone, trimming September bets

Asian index futures signal rebound amid crude oil rally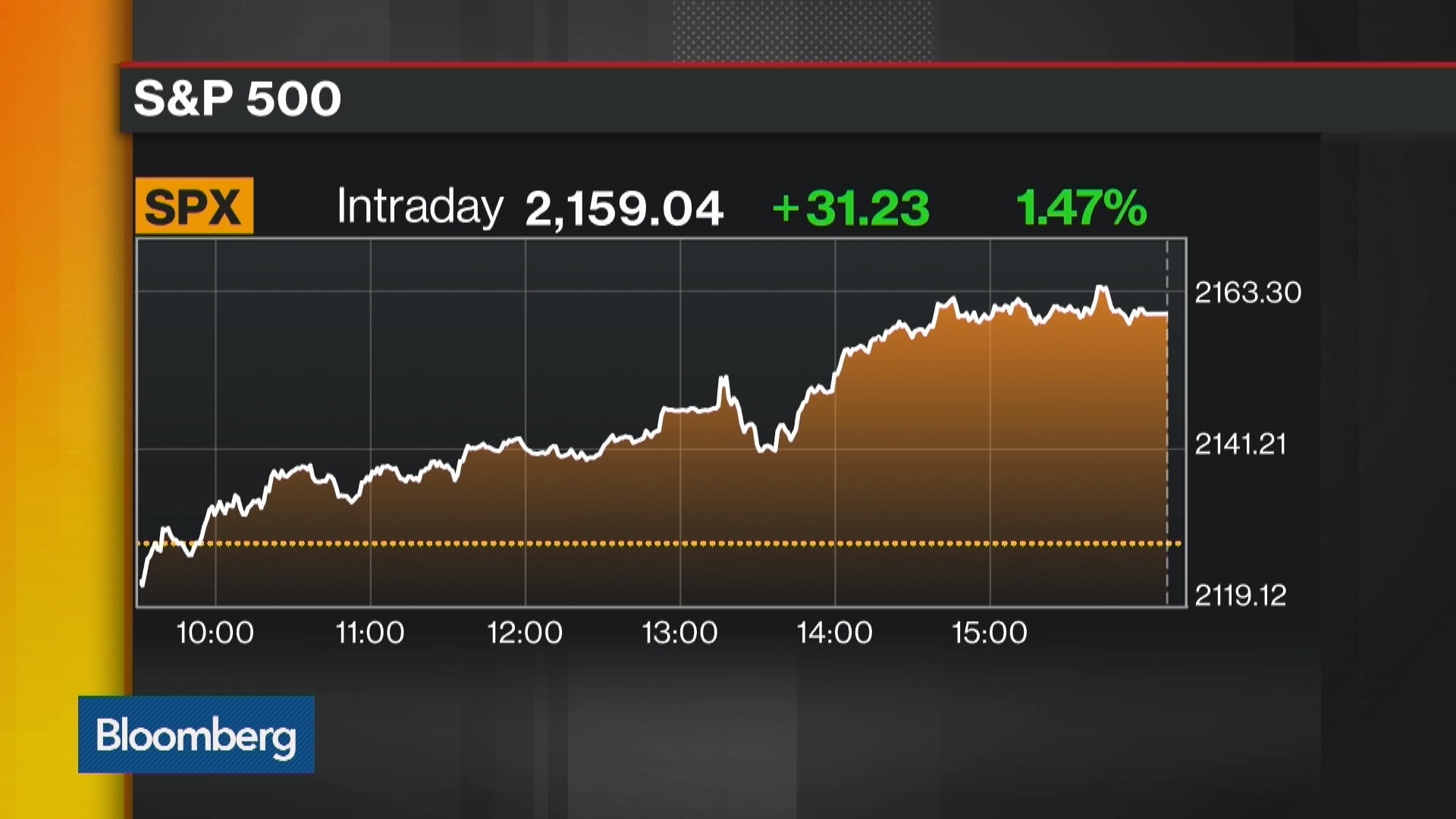 U.S. stocks rallied after the biggest rout since June wiped about $500 billion from the value of equities, while the dollar weakened as the Federal Reserve's Lael Brainard remained dovish in her approach to tighter monetary policy. Emerging-market assets slumped.
The S&P 500 Index staged its steepest reversal since January, jumping the most in two months to hold gains after Fed Governor Brainard urged "prudence" when it came to raising interest rates. The dollar fell for the first time in four days as odds on a hike at next week's Fed meeting slid to 20 percent, while 10-year Treasury yields halted their surge. Shares in Europe and Asia paced Friday's U.S. slump, while an index of developing-nation equities tumbled 2.2 percent. Oil rallied, rising back above $46 a barrel

Brainard counseled continued prudence in the path toward tighter Fed policy, even as she acknowledged the world's largest economy was making gradual progress toward achieving the central bank's goals. Her comments came after financial markets were jolted out of a period of relative calm by concern some global policy makers are questioning the ability of loose policy to ignite price growth and support economic expansion. Brainard is the last Fed official to speak before next week's Fed Open Market Committee meeting.
"It looks like maybe things got out of hand on Friday afternoon without a lot of people around and maybe it's moderating now," Andrew Brenner, head of international fixed income for National Alliance Capital Markets in New York, said by phone. "Stocks, bonds, it's all connected right now."
On Friday, Boston Fed President Eric Rosengren signaled a greater willingness to raise interest rates, a day after European Central Bank chief Mario Draghi downplayed the need to bolster economic stimulus.
Stocks
The S&P 500 rose 1.5 percent to 2,159.04 as of 4 p.m. in New York, reversing course in the wake of its worst selloff since June. The rebound delivered the index its second day with a move of more than 1 percent, after it had gone 43 days without a move of that magnitude in either direction.
Phone companies jumped 2 percent Monday, following their worst drop since 2014 with the biggest gain in four months. Shares on consumer-staples companies added 1.9 percent, while Apple Inc. advanced 2.2 percent. Biotechnology shares rallied the most since June.
The MSCI All-Country World Index also rebounded following two days of losses, adding 0.2 percent. The index spent most of the session lower, with losses reaching as much as 1.1 percent amid selloffs in Asian and European markets. The Stoxx Europe 600 Index lost 1 percent, paring a rout that reached 2 percent, while MSCI's Asia Pacific Index dropped 1.9 percent.
"I'd take this as another of those blips when markets come to terms with less stimulus," said  Kully Samra, a London-based client manager at Charles Schwab Corp., which has $2.7 trillion in client assets. "The market is hooked on any words coming out of the Fed. Some recent economic reports have made people challenge the wisdom of another rate increase this year."
Brainard, seen as a leading opponent of rate increases for much of the past year, is the last scheduled Fed speaker before the self-imposed blackout period running up to the Sept. 20-21 policy meeting. Any hawkish shift in her rhetoric may have stoked volatility in financial markets, which on Friday put the probability of a hike in U.S. borrowing costs this month at 30 percent.
Futures on Asian stock indexes foreshadowed a rebound, with contracts on the Nikkei 225 Stock Average rising 0.8 percent in Osaka, despite gains in the yen. Futures on Australia's S&P/ASX 200 Index jumped 1.5 percent, while those on the Kospi index in Seoul gained 0.9 percent. Contracts on Hong Kong's Hang Seng and Hang Seng China Enterprises indexes advanced at least 0.8 percent. FTSE China A50 Index futures were up 1 percent.
Currencies
The Bloomberg Dollar Spot Index, which tracks the greenback against 10 major peers, fell from near a one-week high after Brainard's speech. The measure lost 0.3 percent, after three days of gains that pushed it up by 1 percent.
Earlier on Monday, the dollar showed little reaction to comments from the Fed chiefs of Atlanta and Minneapolis. Dennis Lockhart repeated his call for a "serious discussion" about raising U.S. rates, even after some recent disappointing economic indicators, while Neel Kashkari said in an interview on CNBC that he doesn't see any urgency to do anything.
The yen gained against its major peers as traders remained on edge following last week's global selloff in stocks. Japan's currency, a traditional haven play, advanced 0.8 percent to 101.85 per dollar, after falling almost 1 percent over the previous two trading sessions. It added 0.8 percent to 114.43 per euro.
The MSCI Emerging Markets Currency Index slid 0.5 percent, after sinking 0.8 percent on Friday. Mexico's peso dropped to its weakest level against the dollar since late June, while Brazil's currency advanced as Brainard's comments offset local political concerns after protests against President Michel Temer. The real gained 0.8 percent to 3.2476 per dollar.
Bonds
Treasuries fluctuated, with yields on 10-year notes dropping one basis point, or 0.01 percentage point, to 1.67 percent. Yields jumped 13 basis points over two days last week to the highest level since June on Friday.
U.S. yields stayed elevated after an unprecedented slate of auctions drew weaker-than-usual demand. Given some traders anticipated Brainard would signal a potential rate increase next week, her more dovish tone led to a brief gain in Treasuries.
Germany's 10-year yields climbed three basis points to 0.04 percent, their highest level since June 23.
Commodities
The Bloomberg Commodity Index rose 0.1 percent, after sliding 1.3 percent on Friday. West Texas Intermediate crude oil rebounded from losses of more than 1.5 percent to settle 0.9 percent higher at $46.29 a barrel in New York.
Gold futures fell for a fourth straight session and nickel led a selloff in industrial metals as concern over the Fed's rate-hike plans lingered. Bullion for delivery in three months slipped 0.7 percent to settle at $1,325.60 an ounce in New York.
Nickel slid 2.8 percent in London for its biggest drop in a month, while copper futures rose 0.7 percent on the Comex in New York.
Before it's here, it's on the Bloomberg Terminal.
LEARN MORE