U.K. Business Has Become Too Lazy to Export, Trade Minister Says
by
Fox says executives would rather play golf, Times reports

Government spokesman describes Fox's comments as private views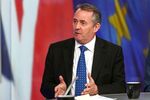 The U.K. isn't ready to take advantage of export markets after it leaves the European Union because corporate executives are lazy, International Trade Secretary Liam Fox said in comments reported by The Times and described by the government as a private view.
Business leaders don't regard boosting exports as a national duty and would rather play golf on a Friday afternoon than work hard, he said at a meeting of Conservative activists in Parliament on Thursday, according to a recording published by The Times.

"This country is not the free-trading nation that it once was," Fox said. "We have become too lazy and too fat on our successes in previous generations."
The comments are Fox's private views, a government spokeswoman said Saturday. The opposition Labour Party decried the comments, and a spokesman said Fox should apologize for insulting U.K. businesses.
It is the second time in a week that Prime Minister Theresa May has rebuffed colleagues managing the U.K.'s exit from the EU. Brexit Secretary David Davis was expressing his own view when he said it's unlikely the U.K. would remain in the EU's single market if that meant ceding control over immigration, her spokeswoman said on Tuesday.
'Crass Comments'
"These are offensive and crass comments," said Jonathan Ashworth, a spokesman for the opposition party. "It's symptomatic of the Tories increasingly shambolic approach to Brexit."
The U.K. current account-deficit -- the difference between money coming in and sent out of a country -- is at a near-record, according to the latest figures from the U.K. Office for National Statistics. The deficit may halve in the next three years partly due to a weaker pound, which has fallen about 11 percent versus the dollar since the June 23 referendum, Bank of England governor Mark Carney said last month.
"What is the point of us reshaping global trade, what is the point of us going out and looking for new markets for the United Kingdom, if we don't have the exporters to fill those markets?" Fox told the gathering, according to the recording.
Before it's here, it's on the Bloomberg Terminal.
LEARN MORE