Dismayed 'Values' Voters, Fearful of Clinton, Learn to Live With Trump
The Supreme Court has become a powerful unifying force for a nominee many Christian conservatives distrust.
By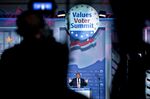 At an annual Christian conservative gathering in Washington two months before the election, the animating force for one of the Republican Party's most loyal constituencies was not their presidential nominee, but Hillary Clinton.
Social conservatives meeting for the Values Voter Summit expressed dismay and anxiety about having Donald Trump, a thrice-married New York real estate mogul, as their standard-bearer. But they seemed willing to hold their nose and pull the lever for him out of fears about the Democratic nominee and a vacant Supreme Court seat.
"He wasn't my first choice. It's an imperfect world, so you kinda go with what you can get. And you're going to live with disappointment no matter what," said Angelo Oliverio, a 61-year-old from Illinois who works in information technology. "But also, hopefully, some benefits. Nobody's totally bad."
"So the hope is on a scale of 1 to 10 we're on the 6 or 7 side" with Trump, he said.
Trump heightened their concerns during his appearance Friday when he failed to make any comment in his speech about opposing legal abortion, a foundational priority of the religious right. 
"I was actually really baffled about that, truthfully," said Mary Turner, a social conservative activist based in Washington. But she said she'd still vote for him to stop a Democrat from replacing the late Justice Antonin Scalia.
'America's Demise'
"Before I came here this morning I was praying at the U.S. Supreme Court," Turner said. "If we have another liberal appointee, certainly that's going to be to America's demise."
Trump also withheld any comments on Planned Parenthood, halting the advance of LGBT rights, and North Carolina's anti-transgender bathroom law. Though his speech was warmly received, enthusiasm in the room seemed muted. It was left to his running mate, Indiana Governor Mike Pence, to fill in some gaps the following day.
"Let me assure you the Trump-Pence administration will stand for the sanctity of life and defend the unborn from the first day we take office," Pence told the summit on Saturday, also vowing to push to block federal funding for Planned Parenthood.
Tony Perkins, the president of the Family Research Council, which hosts the event, said "everybody acknowledges" that Trump isn't a favorite of the religious right.
But he predicted Trump would nevertheless fare better with social conservatives than Mitt Romney in 2012 and John McCain in 2008, citing his contrast with Clinton on three issues: the Supreme Court, religious liberty and national security.
"I see this migration toward him in terms of support. More of an analytical approach to the election," Perkins told Bloomberg Politics in an interview. "He's made very clear he's going to defend religious liberty. Is he going to do these things? I believe he will. But I do know, without question, that Hillary Clinton has a very well-established track record moving in the opposite direction."
A Stark Contrast
Clinton is campaigning on the most socially liberal platform in at least a generation, including championing abortion rights without exception, repealing the Hyde Amendment that restricts taxpayer funding for abortion, promising to protect funding for Planned Parenthood and vowing to expand LGBT protections.
Trump, meanwhile, is giving them something to be more hopeful about.
"It will be our faith in God and his teachings, in each other, that will lead us back to unity," the Republican nominee said in one of his six references to God yesterday, before endorsing repeal of the 1954 Johnson Amendment, which bars tax-exempt organizations like churches from supporting or opposing political candidates.
Trump capitalized on Supreme Court fears, promising to pick justices like Scalia.
"The next president will not only have to fill this seat, but as many as four others," he said. "And you pick the wrong people, you have a country that is no longer your country. It will be a disaster," he added, warning the crowd that religious liberty and gun rights, two issues that have divided the court, hang in the balance.
As of Election Day, two sitting justices, Ruth Bader Ginsburg and Anthony Kennedy, will be 80 or older; and one, Stephen Breyer, will be 78.
"If you need any more motivation for why we need to elect Donald Trump, let me give you two words: Supreme Court," Republican National Committee Chairman Reince Priebus said in a speech Friday.
Constitution 'Vitiated'
U.S. Representative Trent Franks, an Arizona Republican with impeccable anti-abortion credentials, glossed over Trump's omission of the rights of the unborn during his speech and instead warned of a Clinton presidency.
"I can tell you, without any doubt, that Donald Trump's appointment to the Supreme Court are one of the few opportunities to protect the unborn," Franks told Bloomberg Politics. "If Hillary Clinton becomes the president of the United States, the Constitution will not only be vitiated, the unborn will be pushed off into the darkness."
Franks said pro-life conservatives and Republicans "who don't get over themselves quickly and vote for Donald Trump, instead of saying we're going to opt out or we're not going to vote—to do that is to betray this party, to betray America and future generations. It's that stark and that real."
At the summit, questions lingered about Trump's commitment to his Christian faith, which he rarely discusses on the campaign trail.
"Who can know a man's heart?" Perkins said. "What I do know is what he's saying."
Before it's here, it's on the Bloomberg Terminal.
LEARN MORE