U.S. ELECTION WRAP: Blasts From Past Mark Trump-Clinton Race
The presidential race took a retro turn in a week featuring the Kremlin, nuclear anxiety, Ronald Reagan, Larry King and old photos of Donald Trump with Bill Clinton
By and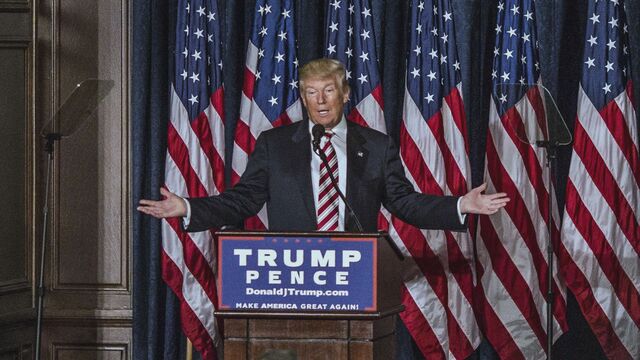 With the U.S. election less than two months in the future, the headlines sometimes seem ripped out of the past. U.S.-Russian tensions, Larry King, Ronald Reagan, President Obama's birthplace, the Iraq War and photographic evidence of Donald Trump and Bill Clinton sharing a laugh in a pre-Sept. 11 world all had time in the spotlight this week.
On Russia:
The Trump camp went on the defensive after the GOP presidential nominee spoke with Larry King on Russia Today, a Russian state-backed news service
Trump campaign manager Kellyanne Conway later told CBS This Morning that Trump didn't know the interview would be on Russian TV
Trump told King it's "unlikely" the Kremlin was interfering with the U.S. election; earlier this week he lauded Russian President Vladimir Putin as a better leader than President Obama
At least two prominent Republicans, House Speaker Paul Ryan and House Oversight Committee Chairman Jason Chaffetz, distanced themselves from Trump's remark; read full Bloomberg story here
On Reagan:
Hillary Clinton, who is calling on Republicans to put "country over party" asked "what would Ronald Reagan say?" about Trump's comments
Clinton invoking Reagan continues Democrats' love/hate relationship with the 40th U.S. president; eight years ago, she attacked then-Democratic presidential rival Obama for admiring Reagan; read today's story by Bloomberg's Sahil Kapur here
Meanwhile, Bloomberg commentator Albert R. Hunt looked at why Trump's insurgency isn't like that of 1964 GOP presidential nominee Barry Goldwater; read here
On Obama's roots:
Former NYC Mayor Rudy Giuliani, a prominent Trump campaign surrogate, told MSNBC's Hardball With Chris Matthews that the businessman now believes Obama was born in the U.S.

Trump gained attention in 2011 by helping finance efforts that doubted Obama was born in the U.S., and he expressed skepticism Obama was eligible to be president
In April of that year, Obama released a long form of his birth certificate showing he was born in Honolulu
On Iraq War:
Trump this week faced a fresh round of criticism from Clinton over his claim that he opposed the Iraq War from the start; read story Bloomberg's Kevin Cirilli and Jennifer Jacobs here
On Bill Clinton and Trump:
The Clinton Presidential Library, in response to a Freedom of Information Act request from Politico, released 22 photos of Trump socializing with then President Clinton in 2000
See photos here
There's also been a flurry of activity around the candidates' families. In her first national TV appearance since the Democratic National Convention in late July, Chelsea Clinton told ABC's "The View" she will continue to help oversee the Clinton Foundation if her mother is elected president.
"For now, I'll certainly stay on the board," she said as she defended the foundation's work; she didn't address whether she would continue to work on fundraising for the group
The former first daughter also said she plans to remain friends with Trump's eldest daughter, Ivanka, regardless of what happens on November 8
"We were friends long before this election. We will be friends long after this election," she said. "I have tremendous respect for Ivanka"
Donald Trump Jr. yesterday tweeted an article from the website Infowars that questioned whether Hillary Clinton was wearing a secret earpiece during Wednesday's foreign policy forum, the Hill reported; Drudge Report featured the article as a lead story
Donald Trump's wife, Melania, has largely vanished from the campaign trail since her speech to the Republican National Convention in July that contained plagiarized sections from a Michelle Obama speech, Washington Post reported

ON THE TRAIL
Clinton meets this afternoon in NYC with a bipartisan group of national security experts, including former Homeland Security chiefs Janet Napolitano, a Democrat, and Michael Chertoff, a Republican (the Homeland Security Dept was established in 2002 in response to the Sept. 11, 2001 attacks)

On Sunday, Clinton will visit the National September 11 Memorial to mark the 15th commemoration of the attacks; Trump's campaign hasn't yet announced his weekend schedule

Trump today spoke at the Values Voter Summit in Washington

He'll stump tonight in Pensacola, Florida; a Quinnipiac University poll released yesterday shows Trump and Clinton tied in the key state.

NORTH KOREA
North Korea drew global condemnation after conducting its 5th nuclear test and saying it was now able to produce miniaturized nuclear arms
Trump campaign spokesman Jason Miller called it "one more example of Hillary Clinton's catastrophic failures as secretary of state"

"Clinton promised to work to end North Korea's nuclear program," he said, but "the program has only grown in strength and sophistication"

Clinton called the nuclear test "outrageous and unacceptable" and a "direct threat" to the U.S.

U.S. must bolster defense cooperation with allies in region and also ensure that China "meaningfully" increases pressure on North Korea, she said in an statement
"This is another reminder that America must elect a president who can confront the threats we face with steadiness and strength"

ETC

CONGRESSIONAL ELECTIONS
SENATE RACES (Republicans hold 54-46 majority)
HOUSE RACES (Republicans hold 246-186 majority)
MN-03: GOP Rep. Erik Paulsen's campaign released TV ad showing Democratic state Sen. Terri Bonoff saying "I have repeatedly been willing to vote for unpopular taxes"

Ad uses footage from candidate debate last month at TwinWest Chamber of Commerce
Paulsen, Bonoff vying in competitive district that includes Bloomington, Brooklyn Park, other Twin Cities suburbs

NE-02: Credit Union National Assn's PAC spending $250k on TV ad praising Democratic Rep. Brad Ashford for "finding common ground" in Congress and for his work on veterans, Social Security, and equal-pay policies, according to FEC filing and Kantar Media/CMAG

Ashford opposed by Republican Don Bacon in Omaha-based district that voted Republican for president in 2012

NY-23: Democrat John Plumb, a Navy officer, in TV ad said GOP Rep. Tom Reed "has attacked me for not always being in western New York," then notes he was born and raised in region and military veterans know "when the orders come, you go where they tell you"

Reed said today on C-Span's Washington Journal program Trump is "an agent of change, a disruptor -- somebody who's going to do something in Washington"
Reed and Plumb vying in Southern Tier district that voted 50-48% for Mitt Romney in 2012 general election and 52%-26% for Trump over John Kasich in GOP presidential primary
Before it's here, it's on the Bloomberg Terminal.
LEARN MORE