technology
Sapin Says France Isn't Trying to Get Share of Apple Tax Fine
Mark Deen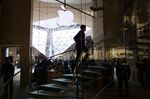 French Finance Minister Michel Sapin denied suggestions that his country is seeking to have some of the 13 billion euros that the European Union orderd Apple Inc to give back to the Irish state diverted to its own coffers.
"The decision is completely legitimate," Sapin told reporters after a meeting of European finance ministers in Bratislava. "The French policy on tax is that of applying French law and for companies to pay in line with what the reality of the profits made in the country are."
The meeting is the first of finance ministers since the European Commission made the ruling, accusing Ireland of illegally slashing the iPhone maker's tax bill between 2003-2014. Ireland and Apple have said they plan to appeal the decision in court. Apple CFO Luca Maestri said the 13-billion figure was a "completely made up number."
Before it's here, it's on the Bloomberg Terminal.
LEARN MORE