The Ghost Ships of Hanjin and Why They're Spoiling Christmas
by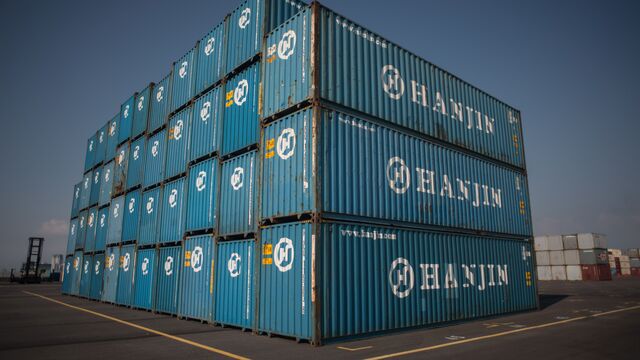 Hanjin Shipping Co., South Korea's biggest container line, is roiling the supply chain for goods such as sneakers and T-shirts from Nike Inc. and Hugo Boss AG, and monitors and home appliances from Samsung Electronics Co. After Hanjin filed for bankruptcy protection, about half its fleet was stranded. The container shipping industry is in the midst of its busiest time of the year, with retailers moving goods for Christmas shopping, which starts in the U.S. around Thanksgiving. About 89 Hanjin ships are stuck at sea without enough money to pay fees to offload their goods. Ports in the U.S., Asia and Europe have turned the ships away.
1. What products are affected?
Apparel, handbags, televisions and washing machines are among goods stranded at sea. Samsung says its home appliance and visual display business divisions had about $38 million of goods stuck in two Hanjin ships in the U.S. and it would have to charter at least 16 planes to transport products if the cargo can't be offloaded immediately. LG Electronics Inc., the world's second-largest manufacturer of televisions, is also trying to find new carriers for its goods.
2. How might this affect Christmas shopping?
September and October are part of the key period when manufacturers and suppliers, including those in Asia, deliver holiday-season goods to retailers, such as those in the U.S. (The effort to identify this year's hottest holiday-season toy is well under way.) The Hanjin logjam is expected to have minimal impact if it's resolved within a matter of weeks. Citigroup, in a research note, predicts that inventory shortfalls for the holiday season "are unlikely."
3. What's happening on the stranded ships?
Vessels carry as many as 24 crew each and pack enough food, fresh water and other essentials for several extra weeks. While sailors aren't starving, at least one captain in international waters said his ship was refused a request for food and water. Other ships anchored at ports in Rotterdam and Singapore are receiving food, water and daily necessities from Hanjin.
4. What does this mean for the shipping industry?
The misfortune of Hanjin is giving a temporary boost to rivals. Hyundai Merchant Marine Co., South Korea's second-largest container line, plans to deploy 13 more vessels to the U.S. and Europe to help ease cargo disruptions. Prices for shipping containers have surged, with the cost to transport a box to Los Angeles from Hong Kong jumping 40 percent to the most in more than a year. Shares of Hanjin, the world's seventh-largest container line, have lost about two-thirds of their value this year.
5. What happens next?
Hanjin's owner will provide 100 billion won ($91 million) to help contain disruptions to the global supply chain while South Korea's ruling Saenuri Party has asked the government to offer about 100 billion won of loans at low interest rates. Still, estimates show the company needs more than 600 billion won to cover unpaid costs like fuel. Should the company go into liquidation and its vessels are sold, the industry will still be facing the same oversupply of capacity that has plagued it for the last few years. The excess capacity has been driven by demand for bigger ships that can carry more containers at lower cost per box, driving rates down to a record low.
The Reference Shelf


Before it's here, it's on the Bloomberg Terminal.
LEARN MORE